A Turkey Encounter, by guest blogger Tammy Johnson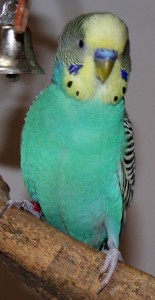 For nearly as long as I can remember, I've had a pet of some sort or another. Most days I prefer to think of them as friends versus pets. They're always there for a hug or cuddle and know just how to listen. I think our furry and feathered friends sometimes know a lot more about unconditional love than a lot of people.
One of the first pets I remember was a green parakeet who I called Tweetie Bird. He would and talk and sing and always greeted me with a happy chirp. That was several years and pets ago, but I've never outgrown my soft spot for birds.
I had an interesting bird encounter just the other day. It's just one of the many things I love about my small hometown. As inconvenient as it can be some days, I wouldn't trade this life for anything. I was at my day job and my coworkers and I noticed three turkeys walking down the road.
Rumor has it, they've grown comfortable with people around town and meander from backyard to backyard being fed just like other wild birds. I'd think this would be a dangerous life with Thanksgiving coming up quickly.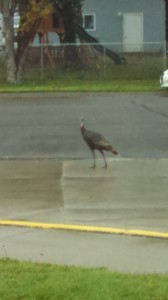 This turkey spotting reminded me of a hobby I once had but haven't done in several years. I'm not exactly sure you can call it a hobby, but I used to really enjoy feeding and watching wild birds. Someday I hope to have a special area dedicated to bird houses and feeders.
If I had a spot for it, I'd love to try to make a homemade bird feeder that I found on Pinterest the other day. It's made from a pumpkin. I've been trying to think of something to do with pumpkins so I could roast the seeds.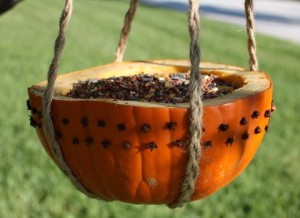 Making a pumpkin bird feeder looks easy enough.
All it takes is hollowing out the pumpkin and filling it with your choice of seed. It is the perfect season for pumpkins right now and I'm sure the birds would love it.
It is another thing I've added to my someday list. For now though, I have to settle for watching the birds from my windows while I'm working on writing my next book.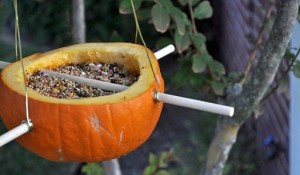 Does anyone else have any quick and easy bird feeding or watching tips? Or what is your favorite bird to watch this time of year? I'd love to hear.
Bio:  Faith has always held an important place in Tammy Johnson's life. Two of her biggest dreams were being a mother and becoming a Harlequin author. After raising and homeschooling four children, her writing dream came true when she sold her first novel through the Love Inspired Suspense "Killer Voices" pitch event.
Now Tammy enjoys sharing her faith by writing stories of strong heroes and heroines who find strength in their beliefs to overcome danger and fear. She is a country girl at heart and lives in a small Kansas town with her teenage son and dachshund. Her first book, Royal Rescue will be an April, 2015 release with Love Inspired Suspense. She enjoys cloud watching and summer storms. A glass of sweet tea and a new story are never far away.
Website/Facebook
www.tammyjohnson.net
https://www.facebook.com/authortammyjohnson