Lawn mowers, Highland Cattle and the Pied Piper
At the beginning of our third lifetime, my husband and I sold our house in Denver, Colorado, and purchased a small ranch in the far NE corner of Washington State.
The area is sparsely populated, except by trees, rivers, lakes, mountains and wildlife. Having a ranch and raising livestock was on our dream list. We knew nothing about ranching, but we knew we would have to raise a special animal that wouldn't require large rangeland. We researched and discovered Highland Cattle.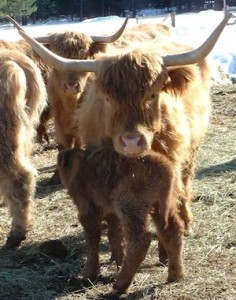 Highland cattle, also called Heilan Coos or Hairy Coos are a Scottish breed of cattle with long horns and long wavy coats of
various colors. We started our herd with two cows and their spring calves, plus one bull. They were all registered, pure bred, and we intended to raise them as breeding stock and also for beef. They are hardy and can withstand cold winters, and their meat is lean.

Our herd grew to 21 head. These are gentle cows, but they get up to 1000 pounds and (I believe) are smarter than most breeds. They have definite, unique personalities. Their eyes would get big when we caught them doing something mischievous. They loved to get out and explore the neighborhood of small ranchettes. Our electric and barbed-wire fences couldn't hold them if they wanted out. We often got calls when we were in town, letting us know our cows were out.
We had 20 acres in hay fields, but the cows loved fresh mown grass. We had over an acre of lawn around the house. When Jim mowed on his riding lawn tractor, he dumped the grass into the pasture, so when he started the mower, they all came running to the fence.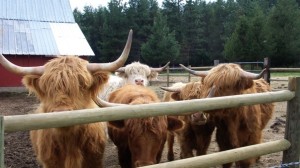 One afternoon, there was a breakout. They were spotted in the backwoods by a neighbor. Jim tried to herd them back home on foot, but they scattered. He came home, got on his lawn tractor, and took off. About a half hour later, I spotted him coming out of the woods. As he slowly crossed our cut hay field, singing at the top of his lungs, a line of cows came single file out of the woods behind him. He looked like the Pied Piper. I don't know about his singing, but the tractor engine was music to their ears. I ran out and opened the pasture gate, and he drove through. They followed him in without a sign of rebellion.
He rewarded them with cow candy pellets. After that, they behaved for a while. But he had discovered the magic key to bringing them back home. They never could resist following that lawn tractor.
Please leave a comment and your email or a way to contact you. I will be giving away a print copy of Heaven's Strain to someone who leaves a comment to this blog post. Shipping only to North America.
Question: If you could raise any animal you wanted, for breeding, for pets, or for livestock, what would it be, and why?
Here is an Amazon link for Sunni's new book!   Heaven's Strain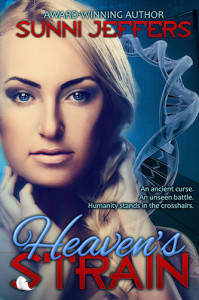 Heaven's Strain
by Sunni Jeffers
Spiritual forces are at work to destroy mankind…
Dr. Ellen Larson has heard myths of fallen angels, but she has no idea they exist—or that they're after her. She has enough on her mind–her research and her own strange DNA, which she's kept secret since she discovered a mutation in medical school that's never been seen before. Then the impossible happens. Two patients admitted to the University Medical Center—Rafe Zacharias and Homer Wilton–have the same genetic mutation! Without transfusions, the men will die. Ellen can't withhold what may be their only hope: her blood. She has no choice… Her secret must come out. Unseen, a battle rages around them. A battle to bring an ancient curse to life. Ellen, Rafe and Homer are pawns in a war mankind can't afford to lose…
"Heaven's Strain is one amazing ride! Deception, danger, romance, a race against time, unseen forces at war…Sunni's masterful book has it all."  Karen Ball, best-selling author of The Breaking Point
Sunni Jeffers is the award-winning author of 15 books. Her life has taken many turns, from Navy wife and mother, to business owner and office manager, to rancher—all of this in partnership with her wonderful husband of 48 years.
Now she writes as she andher husband travel the country most of the year, living in a motorhome. Visit her at www.sunnijeffers.com.