Rabbit Rescue…. and author Amanda Cabot
by guest blogger Amanda Cabot
 One of the best things about where I live is the presence of rabbits.  Admittedly, I spend too much of what should be writing time looking out the window at the cottontails and jackrabbits who visit the backyard, but they're so cute that I can't help myself.  Who could resist the sight of a bunny hopping onto the deck and peering inside or a jackrabbit carefully folding its front legs so that it can fit under a shrub and shelter from the snow?  Not I.
As cute as the bunnies are, they have one very bad habit.  And, no, I'm not talking about the fact that they nibble the fresh shoots of most of my plants, forcing me to put wire cages around them.  Their nasty habit is falling into window wells.  The good news is that, even though my basement is deep, meaning that the bunnies are plummeting quite a distance, they never seem to be harmed by their falls.  The bad news is that they can't get out without human assistance.  And you can imagine how reluctant they are to accept that help.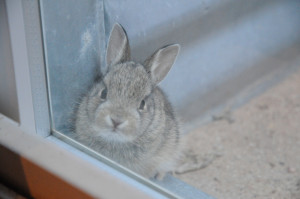 This happened often enough that my husband and I developed a routine for what we refer to as the rabbit rescues.  I stay inside, talking to the bunny through the window.  See what I mean about cute?  My job is to encourage the bunny to hop into the rescue wagon … er, the rescue bucket.  We've decked out one of those black plastic planters that nurseries use for shrubs with string so that it can be lowered into the window well, then hoisted out as soon as the rabbit hops inside.  Of course, rabbits don't naturally climb into strange objects, so it takes a little encouragement and a lot of patience.  But eventually each one finds its way into the bucket.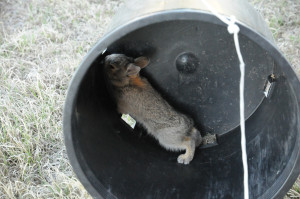 Then comes the fun, a quick ride to safety for the rabbit and a sigh of relief for the humans.  But sometimes the rabbit doesn't understand what's happening.  As you can see from this picture, one was so confused that even though it was out of the window well, it thought the exit route was through the drainage holes.  That gave new meaning to the term "dumb bunny."
We have three window wells on one side of the house, and for three consecutive days last summer, we had a rabbit in one of them.  Was it a dumb bunny, or did it enjoy the ride so much that it came back for more?  We'll never know.  What we did know was that it was time for a new plan.  Rabbit repellant to the rescue.  The stench is horrible when the granules are first applied, but they seem to work, and this year only one bunny needed a ride in the bucket.  Success!
What's your opinion?  If you have rabbits in your yard, do you consider them a nuisance or a delight?  And have you ever had the pleasure/ challenge of conducting a rabbit rescue?  If you did, I hope yours all had happy endings.
Click this Amazon link to buy Amanda's latest book! At Bluebonnet Lake: A Novel (Texas Crossroads)
At BLUEBONNET LAKE
by Amanda Cabot
Revell Publishing
Her life is set to warp speed. His is slowing to a crawl. But love has its own timing.
Marketing maven Kate Sherwood's world is fast-paced, challenging, and always changing. The last thing she wants to do is grind to a halt at Rainbow's End, a dilapidated resort in the Texas Hill Country. Still, she cannot deny her ailing grandmother's request to visit the place where she and her deceased husband spent one glorious week fifty years ago. There, Kate meets Greg, who appears to be the resort's unassuming handyman. But there's more to Greg than meets the eye—billions more, in fact.
Kate isn't looking for romance, but she can't deny the sparks of attraction that fly every time she and Greg are together. Could there be a future there? Or will Kate's long-sought promotion take her back to the big city?
Amanda Cabot invites you to step into a place away from the pressures of the day. You might be surprised by what you find at Rainbow's End.
Amanda Cabot is the bestselling author of more than thirty novels including the Texas Dreams trilogy, the Westward Winds series, and Christmas Roses. A former director of Information Technology, she has written everything from technical books and articles for IT professionals to mysteries for teenagers and romances for all ages.  Amanda is delighted to now be a fulltime writer of Christian romances, living happily ever after with her husband in Wyoming.
SOCIAL MEDIA LINKS
www.amandacabot.com
https://www.facebook.com/amanda.j.cabot
https://twitter.com/AmandaJoyCabot/
http://amandajoycabot.blogspot.com/