Author Miralee Ferrell and her chihuahuas
guest blogger Miralee Ferrell
All my adult life I've said I'd NEVER have a little dog. They yap. They're hard to house train, and for some reason, they always seemed annoying to me. Until I visited extended family a few years ago who had a darling little dog who fell in love with me. They were looking for a new home for her and I was seriously considering it, until I researched online and found some poor qualities that typically went with the breed—and heard from the owners that the dog constantly runs away and was impossible to house train.
Yep. Exactly what I'd thought in the beginning. Scrap that idea.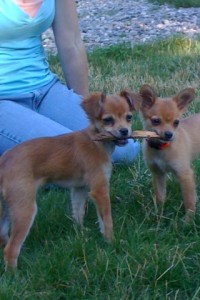 But I couldn't get away from the memory of how fun it was to cuddle and play with that little dog, and I started entertaining the idea of puppy shopping. My daughter helped, and before long we found an ad for two Chihuahua sisters, both long haired, being sold by a breeder. They were already 12 weeks old and hadn't been placed.
We looked, and both of us fell in love with one (later to be named Bella) who was high energy and wanted attention. The other poor little thing was smaller, timid and only wanted to cower or be held and shiver. I felt sorry for her, and decided to take her if my daughter would take her sister. She agreed.
So began my journey into owning a 5 lb dog when all we'd had in the past was Shepherds, Labs, etc. I told my daughter I was worried I'd never really love little Lacey, as I didn't think she was cute and Bella was SO much cuter.
Little did I realize how Lacey would worm her way into my heart.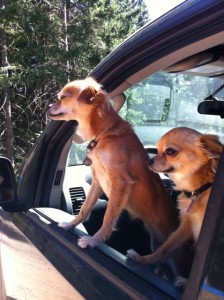 She's been with me and my husband for 4 ½ years now, and she's my best friend. She often sits on my lap while I'm writing or is curled in her bed not far from my feet.
When my husband gets up early and I'm still in bed, he brings her back and she burrows under the covers with me for the final hour or so before I get up.
She's brought untold joy and love to my life, and guess what…now I think she's cuter than Bella! I included pics of when we first got them (with the stick in their mouth) and some later ones when full grown, so you can decide for yourself.
Miralee Ferrell is the author of 11 books, with her most recent that released today, Dreaming on Daisies, book four in the Love Blossoms in Oregon series, a historical romance.
Miralee lives in the beautiful Pacific Northwest on 11 acres, where she loves to ride with her daughter on trails near her home, play with her dogs, and garden with her husband of 42 years.
Here is an Amazon link for Miralee's new book! Dreaming on Daisies: A Novel (Love Blossoms in Oregon Series)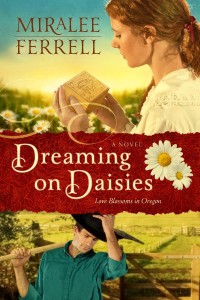 Dreaming on Daisies
David C Cook, publisher
Release date: October 1, 2014
When her father's debts, brought on by heavy drinking, threaten Leah Carlson's family ranch, she fights to save it. When handsome banker Steven Harding must decline her loan request, he determines to do what he can to help. Just as he arrives to serve as a much-needed ranch hand, Leah's family secrets—and the pain of her past—come to a head. They could destroy everything she's fought for. And they could keep her from ever opening her heart again.
This is western historical romance that offers hope and healing to the deepest wounds in a woman's past.
Miralee wants you to know that book one, Blowing on Dandelions is on sale right now on all ebook