Sweet Christmas Kisses anthology –only 99 cents!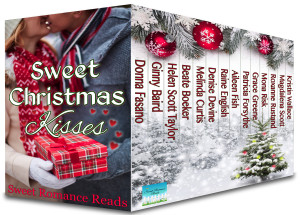 I infrequently post about myself and my books, but I am so excited about this new release that I just have to share the news!
Fourteen award-winning authors, some who are New York Times and USA Today best-sellers have contributed full length novels to this anthology. A total of 1600 pages in all e-formats–Amazon, Nook, etc.  What fun this was, getting to know these gracious and talented authors while we pulled this project together!  The title came about because all of the stories are sweet romance (no racy, graphic aspects) or inspirational.
As I write this, the anthology has climbed to #27 on the  overall Kindle Top 100 Paid book list, and is #1 in inspirational romance,  #1 in Romantic Comedy,  #1 in Anthologies, and is climbing the Contemporary Romance list.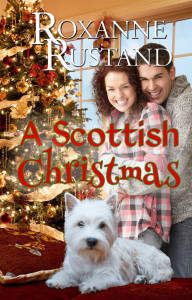 It's a huge bargain, and a great opportunity to read a number of authors you may not have tried before.  My own story in the anthology is "A Scottish Christmas", and I had such fun writing it.  It was a chance to "revisit" our two weeks in the Scottish Highlands  this past spring.  Here is the cover for my book within the anthology, complete with an adorable Westie who is a character in the story.
I so love Scotland–and now I'm totally hooked on the the Outlander series on Starz.  🙂   Did you see any of the episodes?  It's historical romance, and my  book in the anthology is contemporary romance, but ahhhhhh, those wonderful Scottish accents and kilts, no matter what era we're talking about!  🙂
Here's an Amazon link, if you'd like to read the reviews for the anthology, would like to read more about the authors and their stories, or…..if you'd like to order it while it's still on sale!    Sweet Christmas Kisses: Fourteen Sweet Christmas Romances
Blessings,
Roxanne