Hip Hop—Donita K. Paul's most unusual muse!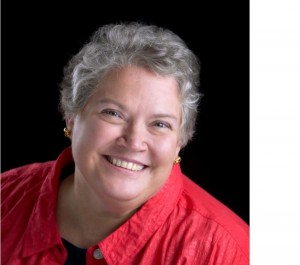 by guest blogger  Donita K Paul
It is a known fact in my family, that if you sit me down on a park bench, I'll soon have a gathering of children or dogs or both. My grown kids call me a dog magnet. When I taught the three year old Sunday school, my son intimated it was my peer group. And I got into mountains of trouble with a sensitive mom of a rambunctious and perfectly normal first grade boy by saying training kids and dogs were similar. She had just been admiring my dog's repertoire of astonishing tricks.  She didn't think behavioral modification should be used on human offspring.
I've had pets all my life, so when I moved into my daughter's basement and didn't have a dog because there was no back door and no cat because her husband was allergic and no bird because she was allergic, I began to show signs of pet deprivation.  This is the nicest place I've ever lived, spacey, airy, and modern. And petless.
Two turtles and a dog came to live upstairs, but they didn't fill my needs.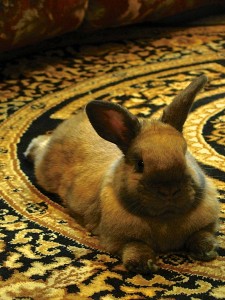 Finally, a type of pet I'd never had caught my attention. Two years ago, I became the custodian of a house rabbit. His name is Hippity Hoppity Hare. (I've made up a song about him that has four verses and we plan to make a website picture book.) He shortens his name to Hip Hop when he's rapping. And he's most often called Bunzy or Bunzoid.
Hip is a Netherland dwarf lop-eared rabbit but his ears didn't lop. They shamefully stand straight up. His breeder has won all sorts of prizes and if her husband had noticed my little fella it wouldn't have been little bunny foo foo bopping field mice, but the money minded husband of the rabbit ranch who would have done the bopping. So essentially, I rescued Bunzy from being removed from the genetic pool. Instead of $150 or more, he was only $25.00 –a bargain bun.
He is the color of cinnamon toast. He sits in his cage on a table by the chair I spend most of my time in. And he keeps me company.  I never imagined a rabbit could be this much fun. He's kind of limited on tricks. He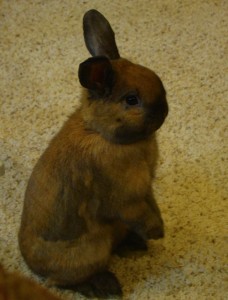 comes for treats and to give kisses–sweet little kisses with much less slobber than a canine. He allows me to stroke his soft fur to lower my blood pressure.  And he even does a type of purring that will never win him honors in a purr-off with the poorest of alley cats but warms my heart.
I spend a great deal of time watching him, and I might even claim him as a writing muse, since he never offers a discouraging word and patiently stays by me as I write into the night.
Here's an Amazon link so you can buy Donita's wonderful new book!  One Realm Beyond (Realm Walkers)
ONE REALM BEYOND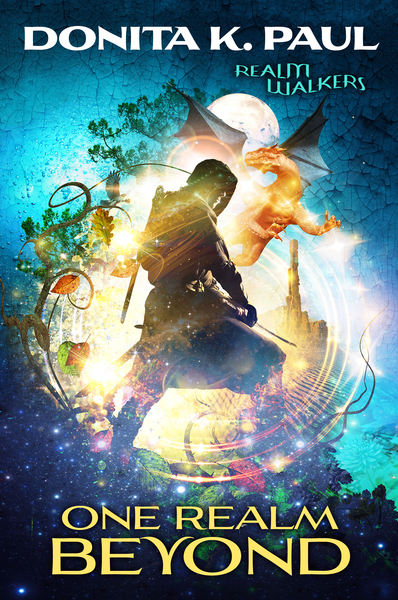 Donita K Paul
Harper Collins Publishing
My latest fantasy comes out this month on the 28th. It is a new world, with new characters, lots of adventure, amazing revelations, and satisfying relationships.  Benzoid has sat beside me as a young girl had her first dragon ride, a young man learned the value of friendship, and a not so young dragon was pressed back into active service for the good of her country.
One Realm Beyond is available at Christian book stores, Amazon.com, Barnes and Noble, and Cbd.com. Come by the website www.donitakpaul.com to celebrate with us.
To  connect with Donita, you can go to.
https://www.facebook.com/don.k.p
http://www.pinterest.com/donitakpaul/
http://dragonbloggin.blogspot.com/