Brenda B Taylor and Toby, the Big Cur Dog
Guest blogger  Brenda B Taylor 
The Wades of Crawford County, Leann and Ralph, live on a farm five miles from the small town of Cuba, Missouri during the post-Civil War era. The farm's livestock play an important role in family's livelihood, but the most interesting animal, the one I really enjoyed writing into the stories, is the big cur dog named Toby. Jesse, Ralph and Leann's six-year-old son in Through The Storm, claimed Toby as his special friend. Toby came out of the woods one day to take up residence under the Wades' back steps. Jesse immediately fell in love with the big cur and the two became inseparable. Toby followed Jesse to school, but the teacher chased the dog away, much to Jesse's chagrin.
Toby stayed close to Jesse when the little boy was sick and could not lift his head from the bed pillow. Leann relented and let Toby sleep in Jesse's room, but only if Jim, the older brother, washed the dog so he wouldn't smell and had clean hair. Jesse had a bad habit of nuzzling Toby's fur and getting dog hair in his mouth.  Toby saved Leann and Jesse when they were lost in the cornfield during a heavy thunderstorm. He led Ralph to each one. Leann learned to love and appreciate the large dog, but she still scolded Jesse when he got dog hair in his mouth. Nuzzling Toby remained outside the limit of Leann's tolerance.
Below is a excerpt from the third book in the Wades of Crawford County series, Through The Storm, when Toby helped save Leann and Jesse during the thunderstorm.
     Leann and Jim made their way to the cornfield in the now-pouring rain. The thunder grew closer, louder. She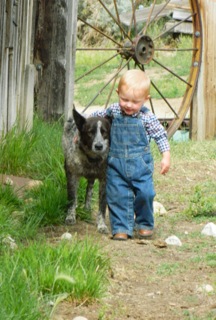 tried calling Jesse but was afraid her voice couldn't be heard over the storm.
     A bolt of lightning flashed close by, right in front of her. With an earsplitting blast, a tree on the hill exploded in a burst of light. Leann screamed.
     Jim started running to find Jesse. Leann tried running to keep up with Jim. She tripped on her long skirt, now sagging under the weight of the water, and fell into the mud, losing sight of Jim and Toby in the tall corn. She wanted to scream for Jim, but he needed to find Jesse, so she sat in the mud, crying. She could do nothing but pray the Lord would help Jim get to Jesse and bring him to safety.
     Leann lost all perception of time. It seemed she sat in the mud crying and praying for an eternity. Lightning flashed around her. Thunder rolled. Her imagination saw Jesse lying among the corn stalks after being struck by lightning. Crying harder, she buried her face in her hands. Where were Jim and Jesse? Where were her sons?
      Suddenly, Toby licked her hands.
     "Where did you come from? You need to be finding Jesse," she scolded the dog between sobs.
      Large hands reached out of nowhere, pulling her to her feet. Astonished, she looked up into her husband's dark and troubled eyes under the wide-brimmed leather hat dripping with water.
The Wades of Crawford County series is a poignant tale of a love strong enough to survive the hard times in post-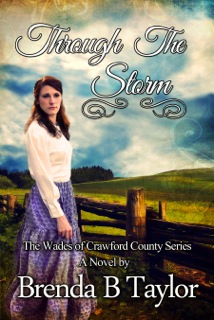 Civil War Missouri, and woven with the cords of family values and faith.
"Truly captivating in the development of the entire cast of characters, each person is given a detail unseen in literature today. These are not just silly heroes and heroines prancing about on a page. These are real people, fighting real challenges, loving real loves. If you're looking for a truly well told story, this is your book." ~ Jessie
AMAZON LINK to buy the book: Through The Storm (The Wades of Crawford County Series)
Contact the author: http://bit.ly/KVDPYf
The desire to write historical fiction has long been a passion with Brenda B. Taylor. Since elementary school, she has written stories in her spare time. Brenda earned three degrees: a BSE from Henderson State University, Arkadelphia, Arkansas; a MEd from Sam Houston State University, Huntsville, Texas; and an EdD from Texas A&M University, College Station, Texas; then worked as a teacher and administrator in the Texas Public School system. Only after retirement could she fulfill the dream of publication.
Brenda and her husband make their home in beautiful East Texas where they enjoy spending time with family and friends, traveling, and working in Bethabara Faith Ministry, Inc. She crafts stories about the extraordinary lives of ordinary people in her favorite place overlooking bird feeders, bird houses, and a variety of blooming trees and flowers. She sincerely thanks all who purchase and read her books. Her desire is that the message in each book will touch the heart of the reader as it did hers in the writing.