Dorothy Love: Carolina Gold, and Golden Retrievers!
by guest blogger  Dorothy Love
Outside of a book, a dog is man's best friend. Inside of a dog, it's too dark to read.   Groucho Marks
I love this quote because it combines two of my life's passions—books and canines. I've been a  book lover, and a dog lover all my life. My first book was a Little Golden Book called  Three Little Kittens,  and my first dog was a beagle puppy  Daddy brought home inside his jacket pocket when I was nine.  We named her Pansy because the markings on her face resembled the flower.  Like most hunting breeds, Pansy marched to her own drummer, running across the road that ran past our house to the empty fields beyond in pursuit of rabbits or squirrels, or, I suspect, often just for the pleasure of running flat out with the wind in her ears.
One morning Pansy darted across the road just as a car pulling a trailer crested the hill.  I called her back, but she ignored me. Until the car drew closer and she decided to chase it. She died in my mother's arms.
After Pansy, there were two dachshunds who lived with us during my high school years but I didn't have another
dog that was truly mine until I was married. My husband and I adopted a Sheltie we named Brandy. For thirteen years she was our vocal and protective companion. She loved  long walks and hot dogs, and hated the hot air balloons that hovered above our North Dallas neighborhood on weekends. When Brandy died in her sleep I vowed that I wanted no more dogs. It hurt too much when they left us.
Six months later a friend who had recently adopted a golden retriever told us what great companions they were and the next thing I knew, a beautiful little golden fur ball with bright button eyes entered our lives
and our hearts.  We called her Molly and she is the reason we have had nothing but goldens since.
A golden retriever spoils one for any other kind of dog. Beautiful, sweet -tempered, smart, eager to please and easy to train, they are simply the very definition of "canine companion."
When Molly was four, we moved to Iowa for my husband's job and we bought a new SUV, just to transport Molly to our new home. Six years later we moved to California  and Molly went with us.  When she died at age 12, again I vowed no more dogs.

But then we got Major. He was my millennium puppy, born in 2000 and he instantly became the canine love of my life. When he died of cancer this past May, I was glad we still had Jake, the golden we adopted when Major was seven.  Jake is now an "only dog" and like our other goldens, he's gorgeous, and loving. Since Major left us Jake rarely leaves my side. I think he knows my heart is still broken.
The day we took Major to the vet for the last time as I sat sobbing, and saying goodbye, Dr Crowley said something that stuck with me: "If it didn't hurt to lose them, it wouldn't be worth  having them in the first place."
All of my dogs have left their little pawprints all over my heart ( Not to mention  all over my furniture and my floors!)  But I wouldn't trade them, or my golden memories of them— for anything.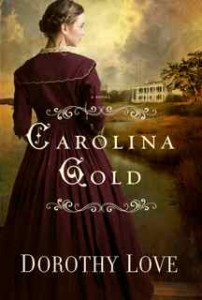 CAROLINA GOLD
by Dorothy Love
Thomas Nelson Publishers
The war is over, but at Fairhaven Plantation, Charlotte's struggle has just begun.
Following her father's death, Charlotte Fraser returns to Fairhaven, her family's rice plantation in the South Carolina Lowcountry. With no one else to rely upon, smart, independent Charlotte is determined to resume cultivating the superior strain of rice called Carolina Gold.  But the war has left the plantation in ruins, her father's former bondsmen are free, and workers and equipment are in short supply.
To make ends meet, Charlotte reluctantly agrees to tutor the two young daughters of her widowed neighbor and heir to Willowood Plantation, Nicholas Betancourt.  Just as her friendship with Nick deepens, he embarks upon a quest to prove his claim to Willowood and sends Charlotte on a dangerous journey that uncovers a long-held family secret, and threatens everything she holds dear.  Inspired by the life of a 19th-century woman rice farmer, Carolina Gold pays tribute to the hauntingly beautiful Lowcountry and weaves together  mystery, romance, and historical detail, bringing to life the story of one young woman's struggle to restore her ruined world.
AMAZON LINK TO BUY DOROTHY'S NEW BOOK!  Click here: Carolina Gold
Dorothy is sponsoring a great give-away opportunity!
Just head over to:     www. Facebook.com/dorothyLovebooks   where she is giving away Carolina themed foods, books, Starbucks cards and a $100 Visa card.
She will also have an  author chat party on FB on Jan 14.  If you have any questions about these events, about her book, or about her beautiful dogs, you can ask here, and Dorothy will be here to answer!