Faith like Jessie? by Cara Putman
by guest blogger Cara Putnam
We've had a Heinz 57, pound puppy in our family for the last six years. With an adorable face and mounds of fur, she's been a good addition to our family but she has just one problem.
She likes to run.
If we lived on a farm far from a highway, that wouldn't be a problem. She could run free without any problem. But we don't.
And she does.
In her eyes, the freedom of running far exceeds the risks of what could happen. So the kids and I have chased her around our neighborhood periodically. She'll let us get close and then look at us with fire in her eyes and dart away. So far this tendency hasn't led to disaster. Instead, we've always found her, always kept her in sight, or a neighbor has called to let us know she's running free.
When I look at her, I wonder why she feels the need to run. We provide food, shelter, love and affection (well the kids provide the last!).
As I chase her, I often wonder if that's how God feels about me. There are times I know exactly what He wants me to do, but I grit me teeth and plant my feet. I may not run, but I don't move like He asks. Does He groan and wonder what it will take to get me to appreciate what I have? I'm so grateful He has exceeding more patience than I do. I am so grateful that He never gives up on me. And this year I want to live with an ear that is quick to hear and a heart that is quick to obey.
And maybe one day, Jessie will acquire the same.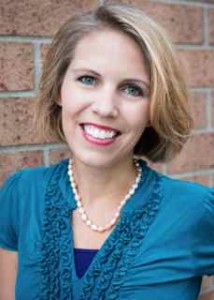 About the author: Cara C. Putman graduated high school at 16, college at 20, and completed her law degree at 27. An award-winning author of seventeen books with more on the way, she is active in women's ministry at her church and is a lecturer on business and employment law to graduate students at Purdue University's Krannert School of Management. Putman also practices law and is a second-generation homeschooling mom. Putman is currently pursuing her Master's in Business Administration at Krannert. She serves on the executive board of American Christian Fiction Writers (ACFW), an organization she has served in various roles since 2007. She lives with her husband and four children in Indiana. You can connect with her online at:
Facebook: www.facebook.com/caraputman
Twitter: www.twitter.com/cara_putman
Pinterest: www.pinterest.com/caraputman
Goodreads: www.goodreads.com/CaraPutman
SHADOWED BY GRACE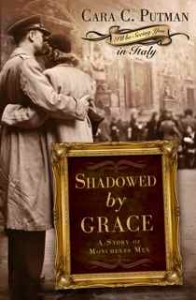 by Cara Putnam
Here's a link to buy the book on Amazon:
Shadowed by Grace: A Story of Monuments Men
Christianbook.com: http://www.christianbook.com/Christian/Books/product?event=AFF&p=1141766&item_no=681783
Barnes & Noble: http://www.barnesandnoble.com/w/shadowed-by-grace-cara-putman/1115951174?ean=9781433681783
About the book:
Rachel Justice is desperate to save her dying mother. She doesn't want to leave her, but she accepts her newspaper's assignment to travel to Italy and photograph war images. No one knows her photography is a cover and that Rachel is really seeking to find the father she never knew, hopeful to get some help with her failing mother. Dedicated to her mission, Rachel is focused on completing it. Soon, though, she finds her priorities and plans changing when she is assigned to Lt. Scott Lindstrom, on mission as a Monument Man. Their meeting will have far-reaching consequences. Will this derail her plans? Will she ever find her father? Is her faith enough to carry her through?
You  can read the first chapter here: http://caraputman.com/wp-content/uploads/2013/10/Shadowed-by-Grace-chapter-excerpt.pdf