Huskies, horses, goats…and Deep Cover!
Hello everyone, Sandra Orchard here.
When Roxanne invited me to visit and share a story about one of our animals, I couldn't decide on just one—animal or story!   I live in rural Ontario with a menagerie of animals. My blog readers have heard many stories about Bella, my hubcap-eating husky who, like a Houdini, can mysteriously escape from her crate without unlocking the door.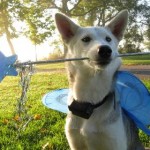 She likes people to think she's a perfect angel, but don't be fooled by the wings and stardust. We've lost count of how many shoes and collars she's chewed through, not to mention plastic flowerpots.   We have no idea where she keeps finding those!Yes, she causes us no end of anxiety. One day my daughter saw her standing on the far side of the hayfield at the edge of the woods. She called and called her to come, and naturally, got pretty frustrated when the dog just stood its ground and stared.
But what happened next chilled my daughter to the bone.   Bella loped happily up to her… from behind.   Did I mention Bella looks like a coyote?    Yup, my dear daughter was trying to coax one of the local coyotes to come home to us. Thank goodness, the animal didn't oblige!   Is it any wonder we've earned a bit of an eccentric reputation around the neighborhood? It's not every family who gives their chickens wheelbarrow rides.  Or who walk their horse and goat along with the dog.   Or who give the neighborhood cats pony rides.
But perhaps one has to be a tad eccentric to spend hours a day writing novels.   My debut Love Inspired Suspense, Deep Cover, released this past September. It's the first novel in my series Undercover Cops: Fighting for justice puts their lives—and hearts—on the line.
For Fun: I recently added some novel "Extras" to my website—things like deleted scenes, bloopers, character interviews, even the first chapter for anyone who hasn't read the book. I hope you'll stop by and check them out. at:  www.SandraOrchard.com.    For those who enjoy cooking, there are also a couple of free recipe books, and a bonus Christmas story for my newsletter subscribers. (There's still time to subscribe!)
BTW If you'd like to read that husky hubcap story, click here:   http://sandraorchard.blogspot.com/2011/08/were-talking-character.html >    
And here is  the blurb about my latest book!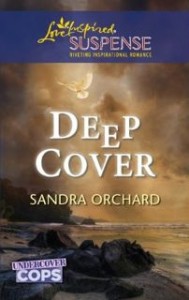 Maintaining his cover cost undercover cop Rick Gray the woman he loved. Sweet Ginny Bryson never really knew Rick. He never gave her the chance. Not then, and not now, when he's back with a new alias to gather evidence against Ginny's uncle. The man's crimes led to Rick's partner's death, and Rick wants justice to be served. But his investigation is stirring up trouble, and Ginny is smack-dab in the middle. Someone wants Ginny to pay the price for what her uncle has done. But how can Rick protect her without blowing his cover, jeopardizing his assignment…and risking both their lives?
In addition to E copies, Deep Cover is still available from ChristianBookDistributors.com and your favorite online retailers.