Mistletoe Mayhem…and Border Collies!
Guest Jill Elizabeth Nelson writes…
Back when we lived on a farm, we had a succession of dogs, but one in particular stands out in my mind. Ginger was a Border Collie mix with mottled fur,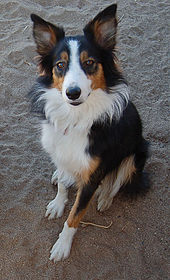 most of which was the color of her name. She was friendly and easy-going, and you had a friend for life if you petted her, but she possessed a surprisingly fierce protective streak when it came to our four children. If anything or anyone threatened them, it had to get past her first. She even bit one of the kids' adult cousins when he was rough-housing innocently with the little girls in the front yard! Of course, it was hard to scold her for the misdeed when she only did it thinking to protect them.
I'll never forget the winter's day when my older daughter, maybe 7 or 8 years old at the time, came inside to sing Ginger's praises for saving her from certain injury. The snow was deep that year, creating tall drifts of white that invited children to slide down them on their snowsuit-clad hind ends, dig forts beneath them, or play atop them. Evidently, my two daughters were playing on one such hill, when the older one lost her footing and began to topple toward a thick row of bushes. The bare frozen branches were sharp-pointed weapons that would have delivered vicious scratches or even poked out an eye! But Ginger leaped forward, grabbed my girl's jacket in her teeth and pulled her upright. Needless to say, Ginger was our four-footed, tail-wagging hero of the day.
Ginger lived to a ripe old age. She got feeble enough that our kids's uncle used to give her rides in his pick-up between the various sites of our family farm. But he didn't put her in the pick-up box. She rode in the passenger seat! It was quite entertaining to see them coming up the driveway, a human head showing behind the wheel and a canine head poking above the dash on the passenger side where she perched primly like a dignified matron.
These are fond memories of a beloved pet, and I'm glad to share them.
Jill Elizabeth Nelson
~~Endless Adventure, Timeless Truth~~
http://www.jillelizabethnelson.com
Jill has a new book out this month–Seasons of Danger, with Hannah Alexander
.  Here's  the information on Jill's story (if you look  further down the blog, you'll find the information on the story by Hannah Alexander.)  Isn't this a beautiful cover?
Seasons of Danger
Mistletoe Mayhem by Jill Elizabeth Nelson
Love Inspired Suspense
December 2011

Holiday cheer turns chilling in Abbottsville, Tennessee, as danger infects humans and animals. Local vet Kelly Granger knows health inspector Matt Bennett is chasing the wrong target, and will face any danger to show him the truth. Even if working with Matt means risking her life…and her heart.