Shih-Tzus, a wonderful new book, and Janet Barton!
Janet Barton writes….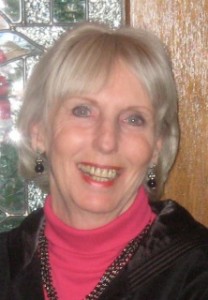 Generational living is an adventure in and of itself, but add a Shih-Tzu to the mix of four adults and two grandchildren, and it can be a ton of fun.  When our granddaughters had to give up their cat, it was hard on them—and hard on us to see them missing their beloved pet. So the natural thing seemed to be to try a puppy. We'd had a Shih-Tzu once before and enjoyed her, so we decided to look for another one.
Our youngest granddaughter picked Bella out immediately—possibly because she came right to her. At 1.9 pounds she was quite cute and she immediately stole a place in everyone's heart. But what was so surprising is that our oldest granddaughter—who loved cats and was sure she'd never love a dog the same way—fell totally in love with Bella. How could she not?  Bella's tail starts to wag as soon as she hears her voice.  She plays all kinds of games with them—they like to pretend they are hurt and let her try to revive them.
At a year and a half, she's now up to about 14 pounds and she thinks we're her pets. Of course she tries to protect us with her life—and would if she were just brave enough.  She tries really hard to protect us from the big dog she's never actually seen, the one who lives behind the tall fence in our back yard.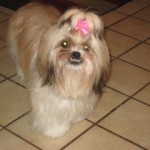 I don't think I've ever laughed more than when I looked out the kitchen window one night to see her giving her little bark at the back fence. But the big dog answered back with one not quite so little and Bella turned tail and headed back to the house fast as her short legs would carry her, looking over her shoulder to make sure she wasn't being followed. Cutest thing ever was to see her running back through her doggie door.
But she's getting braver. When we had an earthquake recently, she seemed out of sorts most of the evening. She'd give a low growl and pace from the front door to the back. Then came the rolling thunderous sound of earth moving, the house shook—everything shook—and we realized she was trying to tell us something was going to happen.  Then quiet and stillness came—and Bella ran out her door to the middle of the yard and barked up a storm.  Not sure who or what she thought she was telling the world, but she said it loud and clear.   Bella has brought a lot of laughter and fun to our household and we don't quite know what we did before she moved in.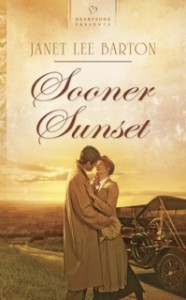 And here's some information on Janet's latest new book!
Charity had always prided herself on her ability to make decisions. But that was before she met Luke Johnson, a reporter she's falling in love with but can't find it in herself to trust. As sunset begins to fall on the first Sooner capital, will Luke and Charity find hope to unite them to face a new day?
Note: Sooner Sunset is the last book in the Oklahoma Sooner Series, at present it is only available from Barbour at: http://www.barbourbooks.com/product/Sooner-Sunset,9105.aspx?Tab=Books&sj=782