A wonderful new story from award winning author Hannah Alexander
Silent Night, Deadly Night,
novella by Hannah Alexander
included in the Season of Danger anthology
Love Inspired Suspense
December 2011

After the murder of Tess Vance's fiance, Tess leaves her career as a musical talent agent and retreats home to her brother's rescue mission for the homeless in Corpus Christi, Texas. She finds solace helping others, and peace with ex-cop Sean Torrance, who has also endured great pain over the past year. Just as they begin to think life will settle for them, and their friendship will deepen into something more lasting, Tess finds herself the subject of a stalking, and the stalker hurts her by hurting and killing those she loves, including the homeless.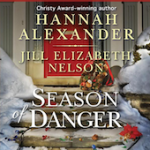 All of Sean's protective instincts rise to the top when the woman he has grown to love finds herself in danger once again. He'll do whatever it takes to protect her and the others he works with at the mission. As the owner and manager of one of the top radio stations in the region, he finds a way to stop the attacks, but it will mean betraying her trust. Can their relationship withstand the conflict?