Spring: flowers, a new release and a PUPPY!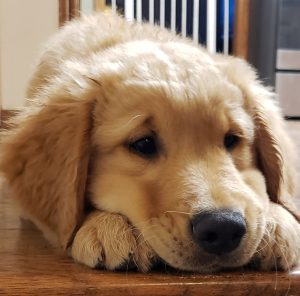 First of all, I'm happy to report that ONE MORE WISH, the second book in my Northern Pines clean and wholesome, small town romance series has released this month!
Here's a quick blurb:
What do you do when your summer plans are turned upside down?
After an injury, Ethan needs help with his son and small farm as much as Abby, a registered nurse, needs a temporary home that will accept her rescue dog.  A perfect situation, right?
It is…until she has to deal with his flock of ornery goats, a herd of cattle escaping, and a litter of new puppies born while he's away. And now, someone is trying to destroy her professional reputation. Worse, a dangerous stranger is lurking in the shadows, and threatening great harm…  CLICK HERE to read more about it and find buy links.
ONE MORE DANCE, the first book in the series, is still just $.99! CLICK HERE to read more about it and find buy links!
***
It's spring here, in the upper Midwest.  A time of new beginnings. Our perennial flowers are blooming, the grass is lush and green. The scents of lilacs, Lily of the Valley, and new-mown grass fill me with joy. The emergence of wood ticks and gnats, not so much!
Speaking of new beginnings, have you ever received a completely unexpected gift?  Folks who have followed me on Facebook and my blog know I'm a passionate animal lover. I've had horses since first grade, and I've never been without a variety of rescue animals. When Elmo died, the sweetest border collie ever, my husband insisted that our golden retriever rescue Sage was all we needed. He was adamant…but apparently other plans were afoot.   🙂
When he surprised me with an eight-week-old golden retriever puppy for Mother's Day this year, I was nearly speechless, and overcome with excitement! Little Doogan is such a sweetheart! But boy, has life changed.  He is like a new baby who doesn't have diapers, and who can run through the house like an antelope. J We are working on crate training, though, so things are getting better  And better yet, his older "grandpa" Sage, also a golden, is adapting to the rambunctious new kid on the block.
Read on for your chances to win books, see one of my family favorite recipes, hear about a dear friend's latest release, and find links for the latest "online bookfairs" where you can find free or bargain books.
***

NEW QUESTION FOR MAY…
Each month, I select some winners from the readers who answered one or more of the question(s) I posted  in the previous month's newsletter. The winners of this May drawing will receive an e-copy of one of my Coupled By Christmas novellas—their choice of title.  To enter, just leave a comment on this blog  post. If you are reading this at another site where my posts are shared, just CLICK HERE.
The questions are:
What is one of the most unexpected, fun, or unusual gifts you have received?
Do you have a fond memory of completely surprising someone else with a gift?
If you have (or had) dogs, what advice could you give about new puppies?
***
The contest winners in the last newsletter drawing:
Laurie G: This year we spent the winter in Wisconsin. Luckily it was a pretty mild winter! I used my old Nordic Track machine so much that it broke! I've spent time going through my 4 children's stuff: school mementos, clothes, toys, all broken or stained items were tossed. I've had them give me a list of things they want me to save or donate.
I was able to help my daughter with her 4 children, 3 were homeschooled (3rd grade, 1st grade and 4K). It is quite time consuming. This past month we went to Florida to get my 96 yo mom's condo ready to sell. We closed on it April 30th. YAY! Next, I need to get the yard ready for summer.
I read any chance I get!
Sandy S:  Positive in a pandemic? A good question which really made me stop and think. I think the most positive was finding out that I love working from home. I also just out-and-out love my home. I like being here and I like the things I have surrounded myself with. It's also made me appreciate even more the nights when my husband and I are able to go out to dinner. Where we sit across from each other and just talk and talk about anything and everything. I appreciate that so much more than I did before the pandemic!
Beth M: How has the pandemic affected me? Well both my husband and I telework from home and that can be challenging at times. I have been reading more than ever. I also have been spending more time with my Mother in law and Father In law. Unfortunately my FIL passed away, not COVID, but he had dementia and other issues, therefore we have been spending more time with MIL and do all of her shopping for her.
***
RECIPE OF THE MONTH:   GRILLED TURKEY TENDERLOINS
I've been making these for many years, and my family loves them. So easy! I like to serve them during the summer with fresh sliced tomatoes from the garden, sweet corn dripping in butter, crusty garlic buttered French bread, watermelon and cherry pie with homemade ice cream.  The sweet corn season can't come soon enough for me! J
1# turkey tenderloins 1" thick
¼ cup soy sauce
¼ cup canola or extra-virgin olive oil
¼ cup dry sherry
2 Tbsp lemon juice
2 Tbsp dehydrated onion
¼ tsp dry ginger
Dash of pepper, dash of salt
Marinade the tenderloins in a gallon food storage bag  in a shallow pan, several hours in the fridge. Flip the bag over several times.
Grill over hot coals on a grill, approximately 7 minutes per side, until internal temp via an instant-read thermometer reaches 165 degrees. Allow to rest 5-10 min. Do not overcook or they will be dry.
***
CURRENT ONLINE BOOKFAIRS:
Inspirational Romance Sweepstakes  
The contest starts Monday, May 24, and ends on Wednesday, June 2.
https://www.booksweeps.com/giveaway/may-2021/inspy-romances/

Sweet Romance Summer
This promotion starts May 30th and runs through June 30th   https://books.bookfunnel.com/sweet_romance_summer/9skbf2x96f
Finally, here is a new release written by a dear friend—the USA Today Bestselling author Lyn Cote!
Book 2 in her New Neighbor Lane series, Rosa's Forever Home, is available now for 25% off.  Here is a blurb and the link:
A little boy chases a stray dog into the path of a cement truck. This heart-pounding meeting brings two wounded souls together. From a USA Today Bestselling author, a heartwarming story of love, faith and God's healing power. And the joy of furry friends! Why not download today?https://booksbylyncote.com/SWBS/books-by-lyn/rosas-forever-home