ONE MORE WISH, a May 14th release, and a chance for prizes!
I'm so happy to announce that the second novel in my Northern Pines series will be out May 14th, and it's now available for preorder! Here's a quick blurb:
Facing emergency surgery, Ethan needs help with his son and small farm as much as Abby needs a temporary home that will accept her rescue dog, too.  A perfect situation…until she has to deal with his flock of ornery goats, a herd of cattle escaping, and a litter of new puppies born while he's away. Those challenges she can manage.
But now, someone is trying to destroy her professional reputation. And out in the country, a dangerous, threatening stranger is lurking in the shadows… 
CLICK HERE  for a link where you find out more or find the Buy Links.
How have you been spending your spring thus far?  Have you accomplished any long-delayed projects? With travel and dinner with friends still off the table for now, I've been going through our endless stuff, and have sent untold numbers of boxes and bags of it to Salvation Army and the Olivet Mission (where folks in need can pick up what they need for free.)  Strangely, the closets and cupboard still seem full. How can that be?!
Tired of that for now, I've now started to go through boxes and boxes and boxes of old photographs and correspondence from my parent's generation. Oh, boy. I apparently come from a long line of savers!
My mom had three siblings in rural Kansas who never married, and neither the siblings nor my sweet little Swedish grandpa had a phone until around 1990. So everyone wrote letters. Long ones–whether the recipient was in the next town, or back in Sweden. And, they apparently saved every card, letter, and document they ever received, going back to at least 1923. Many, many boxes of it all. Annual teaching contracts for a one-room school, 1924. A bill for a five-day hospital stay, 1937: $33.00.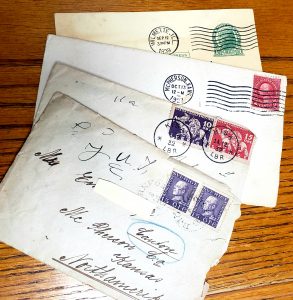 After the Kansas folks all passed on, Mom ended up with their boxes of saved correspondence. And since Mom had also saved every card and letter she received—even the Valentines exchanged during her elementary school years—I now have a treasure trove of family history. I've always wished that I'd kept a journal all my life. And now I essentially have one, via all of those exchanged letters.  I'll never stop missing Mom, but now it's so fascinating to read all about the events in her life (and mine) that she shared in her letters. I can imagine she's still here, telling me those family stories.  But it also makes me wonder.  Texts, emails, and a cell phone always close at hand are convenient, but also so transient.  What will we leave behind to pass on to future generations about us?
Here is my question of the month:  All of us have been affected in many ways by the pandemic. Have you found any positives throughout this long experience? More time to tackle long-delayed projects, work through your to-be-read book stack, or resume some hobbies?
Or have you been even busier, with working from home and homeschooling to boot? Have you found new ways to stay in touch with loved ones? How has it all gone?
Prize drawings: To leave an answer or a comment click  at the bottom of this blog post and you'll be entered in a drawing for a free e-copy of SAVE THE LAST DANCE (my March, 2021 release), THE MISTLETOE PUPPY, or a $10.00 Barnes & Noble gift card. Three separate winners.  Good luck!
Here are the winners from last month, who can click CONTACT  to receive their prizes. Be sure to put "WS newsletter winner" in the subject line. Thanks!
Rebecca H:  I like the cover to be about the book.
But if I had to choose, scenic pictures, mountains and farms. Don't care for beach scenes.
People as long as it is the character of the book. A person with animals is good too.
Robin in NC:  I'm drawn to scenic covers. I don't care for people on the cover, especially faces, because my imaginations idea of how a character looks never matches the cover characters.
Joy I:    I like a colorful cover with something on it that gives me a hint of what the story is about. Maybe a horse or a lighthouse. Does not need a person on the cover but it is helpful if we can see what they are wearing.
Here is my family recipe of the month. All of us love this, because it's like eating at a popular Italian restaurant, but it's very low carb!
LOW CARB ZUPPA TOSCANA
1# mild Italian sausage
1/2 #  ground beef
2 cups broth, made with Better Than Bouillon (Roasted Chicken Favor) *
4 cups water
4 garlic cloves minced
16 oz fresh, sliced mushrooms browned in butter**
1 large onion, diced, sautéed in bacon fat or pan after browning meat
5 strips bacon, crumbled
Add later:
2 cup fresh spinach leaves, coarsely chopped
1 cup heavy (whipping) cream
Brown the ground beef and ground sausage. Drain and crumble, add to slow cooker with everything except the cream and fresh spinach.  Slow cooker on Low, four hours. Adjust seasoning with salt & pepper. Stir in spinach and cream, and serve promptly.
* Note: I add in extra Better Than Bouillon paste for more flavor.  If you don't have it, you can substitute a 16 oz can of chicken broth.
* You can substitute quartered small red potatoes if you don't like mushrooms, but they are higher in  carbohydrates
FINALLY, HERE ARE LINKS FOR THREE NEW VIRTUAL BOOK FAIRS FEATURING BARGAIN PRICED BOOKS!

Kisses and Sweethearts (but hurry–ends today, April 30, 2021)
https://books.bookfunnel.com/kissesandsweethearts/4q69gdcof9
Craving Christmas
https://books.bookfunnel.com/cravingchristmas/6w9bmrl1z0
 Make Mom's Day
https://books.bookfunnel.com/makemomsdaywithanebook/ykhb4rtme8