Free books, prizes & a fabulous summer recipe!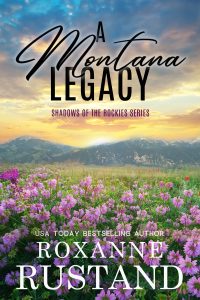 Love bargains, and enjoy winning prizes?  Read on!
A Montana Legacy, a full-length clean & wholesome novel is now available * FREE *  if you use Amazon's Kindle Unlimited. For the first time ever!    Otherwise, it's only  $3.99.    To find A Montana Legacy on Amazon, CLICK HERE!
In A Montana Legacy, a burned-out Minneapolis cop must deal with a stubborn Montana rancher. All she wants is to claim her unexpected inheritance, but will he claim her heart?  Maybe not, because someone is lurking in the shadows, planning to ensure that she'll find no happy endings.  Ever.
*****
YOUR COMMENTS LAST MONTH:   There were such nice responses to the questions in my May newsletter  Over twenty-five of you, and it's always so lovely to hear from everyone. All of the replies were wonderful but here are four winners selected via a drawing. The fourth one was by R. Shelley—about a surprise she is planning for a family member–but I haven't included it here, in case it might give the surprise away.   🙂
The winners can select any title from my clean & wholesome Coupled by Christmas novella series.  To read about the six titles CLICK HERE to decide on your choice, then let me know via the Contact Button on my website  (www.roxannerustand.com ) so I can arrange to send your prize!
Conrad: My husband surprised me one year with a Honda Accord for Valentine's day since I needed a car to drive back and forth to work. Needless to say I helped pay for it but it was so sweet that he wanted to do that. As for me surprising someone else…our last name is Conrad and he found a used Conrad guitar that needed to be completely redone one year, but did not feel that we could afford it. I bought it for him for Christmas and the look on his face was priceless.Thoughts on new puppies is to just give them plenty of love and lots of exercise and good luck. There is nothing sweeter than a new puppy.
Hager My fond memory of a gift is when I surprised my granddaughters with a 5 day stay at Rocking Horse Ranch in New York. They had so much fun!
McDonald I surprised my mom with a blanket with a poem on it that was a part of me. I did the same for my dad, but made his into a glass etched piece for Christmas last year. I have never had a dog so can't give any advice, but I know to keep puppy pads down, and provide lots of chewing toys so they don't chew on your belongings!
*****
THE NEW QUESTION FOR  JUNE:   What are some of your favorite summer memories?  Those who answer will be in a drawing for a free copy of ONE MORE WISH, a clean and wholesome, full-length romance mystery!  Just leave a comment below.
My favorite summer memories are of riding my horse bareback, in shorts and with barefeet,  all day long throughout the surrounding countryside. Remembering some of the misadventures I had with friends who also had horses, I was never as lenient and carefree with our kids as my parents were with me!  But oh, what a Tom Sawyer childhood that was…starting when I got my first horse at the age of six! I am so grateful to have had that opportunity.
*****
Here is a family favorite recipe:   BECKY'S PARMESAN BACON SALAD
Becky, my best friend in high school (and a lifelong friend since) gave me this recipe many years ago. It is my all-time favorite salad for family gatherings!
Salad:
1 head lettuce, shredded
1 head cauliflower
1 medium yellow onion, chopped
1 lb bacon fried crisp and crumbled
1 cup carrots sliced thinly
3 cups seasoned croutons (add only at the last minute)
Dressing:
¼  cup sugar
½ cup parmesan (the kind the comes in a cylindrical container)
2 cup Hellman's regular mayo (not fat-free, not less fat, not the olive oil kind
Break cauliflower into big chunky flowerets and slice thin (a food processor works great)
Place first five ingredients into a large container with a lid.
Mix dressing ingredients and spread over the carrots.
Refrigerate until serving time, then add croutons and toss all ingredients until well mixed with the dressing.
This is a wonderful salad for company!
*****
HERE ARE THREE NEW ONLINE BOOKFAIRS….. FOR FREE AND DISCOUNTED BOOKS
I love sharing these opportunities with you every month. I have books in each of them, but you'll find lots of books by other authors—all at discounted prices, and some are free. Who knows? You might find your all-time favorite author by clicking on these links!
SWEET ROMANCE SUMMER
https://books.bookfunnel.com/sweet_romance_summer/9skbf2x96fSWE
                                 *****
START A NEW SWEET ROMANCE SERIES FOR $.99 OR LESS
https://books.bookfunnel.com/sweetromanceseriesstarter/r90gh88cc3
*****
SUMMER LOVE
https://books.bookfunnel.com/jmsummerlove/3p02jdrurq