WInners, prizes and COMEBACK COWBOY, a romance mystery!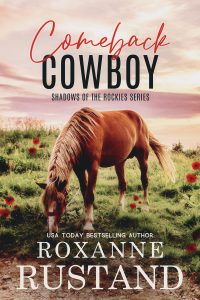 I hope you've been having a good summer. Can you believe we're approaching the end of July already?
Just a quick heads-up: COMEBACK COWBOY, a full-length clean & wholesome novel is now FREE if you use Amazon's Kindle Unlimited, or just $3.99 to buy.  A quick summary:
Can bullrider Jake Landers undo the biggest mistake of his life?
Rodeo cowboys and clowns are often close—cheering each other on, helping each other throughout the rodeo circuit. But Jake was badly injured last year and forced to retire, and now he'll lose touch with the folks who've become his second family.
Buying a faltering rodeo company is his ticket back into the life he loves. The one person who can help him succeed is the woman he stood up at the altar ten years before. If she'll agree…and if dark secrets from the past don't tear them apart once more. Will they ever have a second chance at love?
To learn more about Comeback Cowboy, CLICK HERE!
JUNE WINNERS: Thanks to all of you who replied to my question in the June newsletter, which was "What are some of your favorite summer memories?" All of the replies were wonderful! The winners:
Mary S: My favorite memories involve my birthday. I was born on July 3, so we usually celebrated on July 4th with a family cookout. It was always so much fun. I have a rather small family, so it wasn't all that big, but it was small. And a few years ago I visited my daughter and her husband on my birthday and that year the town they live near had fireworks on July 3. My daughter said she planned it just for me. Summer is just fun times.
Janine: Some of my favorite summer memories include hanging out with my friends. Summers in Texas are very hot, so we used to enjoy doing things after the sun set. One thing I looked forward to was swimming in the creek to cool down. Now that I am older, I know it wasn't very smart with snakes in the water. Luckily, we never encountered any when we were out for a swim.
Debra J.P.: Some of my favorite childhood memories were going to West Virginia every summer. The home place where my Mom was born and raised still stands. We would go down the last two weeks of August every year along with most of my Mom's family. We would all be together. There would be campers as well as some would stay in hotel rooms in a nearby town. We would play in the creek across the road as well as visit family we only get to see once a year. I learned to fish as a child in West Virginia. Thank you for the opportunity.
~ ~ ~ ~ ~ ~ ~ ~ ~ ~
The current winners can select any title from my 2020 clean & wholesome Coupled by Christmas novella series. To read about the six titles CLICK HERE to decide on your choice, then let me know via the Contact Button on my website (www.roxannerustand.com) so I can arrange to send your prize!
NOW, FOR TWO NEW QUESTIONS TO ANSWER IN JULY:
1. Series books: Do you like reading series of connected books? Do you want them all to be very closely connected, or do you prefer that the books can also be read as "stand alone" titles without needing to read the previous book first? Do you have any pet peeves regarding books published in a series?
2. So far, I have included a family favorite recipe in each newsletter, but is this something you like? Or should I skip it? What do you enjoy most when you read author newsletters?
Just click  below to leave answers in the comment space.  July winners will receive a free copy of ONE MORE DANCE, or ONE MORE WISH, the first two books in my Northern Pines series. Three more books in the series will be out this fall!.
**Note: if you send answers to my questions of the month, be sure to check the next month's newsletter to see if you are a winner!
HERE IS A FAMILY FAVORITE RECIPE:
STRAWBERRY SHORTCAKE
Adapted from an old New Orleans' cookbook
SHORTCAKES (makes twelve)
2 cups AP flour
1 tsp salt
2 tsp baking powder
2 Tbsp sugar
1/2 cup butter (regular. Not unsalted)
2/3 cup milk
Mix dry ingredients. Cut in butter until it resembles corn meal.
Stir in milk just until dough holds together. Bake at 400 degrees until browned.
***NOTE: Instead of rolling out, I drop the biscuits to achieve a nice crunchy texture on top, and before baking I sprinkle heavily with sparkling or sanding (coarse) sugar for a nice glittery top.
STRAWBERRY MIXTURE
4 cups hulled, washed strawberries 6 Tbsp Splenda (could sub sugar) 2 Tbsp Grand Marnier
Puree 1/3 cup of the strawberries with the Grand Marnier and sugar or Splenda. Mix into remaining strawberries. Let sit at least 30 minutes.
WHIPPED CREAM
2 cups heavy cream
6 Tbsp white corn syrup (for more stability)
2 tsp vanilla extract
Extra sweetener to taste, if needed
ASSEMBLY
Split biscuits in half. Dust top half with powdered sugar.
Put bottom half on a plate and top with strawberries plus a big mound of whipped cream. A scattering of a few blueberries can add another pop of color. Garnish with fresh mint leaves.
THREE ONLINE BOOKFAIRS RUNNING NOW –find lots of bargains!
I love sharing these opportunities with you every month. I have books in each of them, but you'll find lots of books by other authors—all at discounted prices, and some are free. Who knows? You might find your all-time favorite author by clicking on these links!
CHRISTMAS IN JULY
https://books.bookfunnel.com/christmas_in_july/spk2umtdn7
SUMMER LOVE
https://books.bookfunnel.com/jmsummerlove/3p02jdrurq
LOVE IS IN THE AIR AT KINDLE UNLIMITED
https://books.bookfunnel.com/amazon-kindle-unlimited/o2imhux3o7
Blessings,
Roxanne