New books, an online bargain book fair, prize winners (maybe you?!) and an amazing scone recipe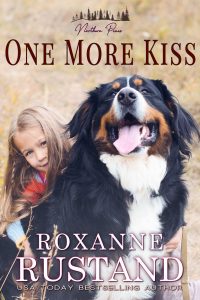 Wow—this summer has passed so quickly. I hope you had some good times, stayed safe and healthy, and were able to make some happy memories along the way. My own favorite memory of this summer will be the excitement of having two grandbabies coming soon: one due on Christmas Day and one around  New Year's Day—a boy and a girl. What a blessing!
Be sure to page all the way down to see if you are a winner in July's drawing,  find a link for an online bookfair (free and discounted books from many authors), for my favorite blueberry scones recipe.
As for upcoming books, I have a few! ONE MORE KISS, the third book in my Northern Pines series, will be out September 10th. If you like small-town romance with humor and mystery, and love animals, this might be a good one to try! ?
It's FREE with Kindle Unlimited, or just  $3.99 to buy. Available for pre-order. CLICK HERE.
Here's a quick blurb for One More Kiss…
In One More Kiss, a disillusioned lawyer searching for a quiet life in a small resort town inadvertently ends up sharing a house with a woman who has a troubled past, a young daughter, and a menagerie of epic proportions.
The situation is challenging enough, but add a miniature goat with a penchant for roses and adventure, and an unknown enemy who will stop at nothing to achieve his own goals, and life becomes even more…interesting.
And after that release, my new, clean romantic suspense series Montana Secrets will be starting. For those of you who hate cliffhangers from one series book to the next, I promise that won't happen in the Montana Secrets novels. Each book can stand alone (each story is complete within its pages). One of the questions I'm asking in this August newsletter is about titles for those books. Help!
Here are last month's "Questions of the Month" and the prize winners!
The July questions were about whether or not you like to read book series, and if you enjoy seeing the family recipes I add to these newsletters. Thanks to everyone who responded. You've all given me great ideas on what I could add to the newsletters and also, your feedback on book series (yay or nay) was invaluable!
Here are the three July drawing winners plus two responses I just had to add, so they are winners as well. I wish I could make every one of you winners! Thanks to all for taking the time to respond. Winners, click "Contact me" at the upper right corner of my website: www.roxannerustand.com so I can arrange to send your prizes.
Lori S: I so love series. Sometimes I love short series and sometimes I love longer series. A lot depends on the author and the subject. I do love a series where I can follow along with the characters and watch them grow and learn. I also love series where each book is stand alone.
I do love to see recipes on a newsletter. I have to be careful now that I do mostly gluten free. Oh the joys of getting older. LOL. I do enjoy your newsletters. Thank you.
Robin S: I love a series that follows a family, but they should be stand-alone in case someone picks one up in the middle. For example, I love The Beach House series by Mary Alice Monroe. I like that you include family recipes! Keep up what you're doing. I enjoy your newsletters.
Kristen C: I'm pretty indifferent about the series vs. stand-alones debate. I see the pros and cons about both sides of the argument. If I'm invested in a storyline/character(s), then reading a series is awesome. If I want to bounce around and try different authors or different storylines, I'm not able to do so if it's a series because I will have missed important things, jumping into the middle of one or if I read just the first book, they usually end on a cliffhanger. Personally speaking, I enjoy reading a series that isn't necessarily connected to the others in the series or doesn't have to be read in a certain order. But having said that, if I'm invested in the characters/setting/storyline, then I'm totally there for the entire series.
I love the family recipes that you include in your newsletters and I do try some of them for myself or my family! You should definitely keep them coming!! What I love most about authors' newsletters, the ones that actually engage with us readers, is getting to know you, your life, your motivations for writing and your workspace. Where do you prefer to write or even read? Is there a certain process you use, for example, do you physically write it first or do you old-school type it out?
Nina T: I don't mind if the characters of one book show up as side characters in the next but I do like my books being standalones. That way I can read the story of how couples meet from the beginning not having to worry I need to read the previous books first. I feel like with trilogies there's always unnecessary drama. And cliffhangers are a huge no-no for me. It also sucks if you accidentally buy a book that is second in the trilogy. That way you have to buy the first and there's a chance it's not available anymore for purchase.
I don't mind the recipes I like recipes for lunch ideas because I never know what to cook.
Glenda M: I love recipes! Cliffhangers are evil and authors who use them without plenty of warning have earned an eternity stuck in Chuck E Cheeses birthday party with children suffering from a stomach bug – oh and no adult beverages around. Yess I have strong feelings of hatred towards cliffys. That said, I love series that are interconnected. HOWEVER, each story has to be able to work as a standalone.
AUGUST'S QUESTIONS & PRIZES YOU COULD WIN:
Three winners of a drawing from those who leave comments will receive an e-copy of The Mistletoe Puppy, the first of my six-novella Christmas series  (all just $.99 each!)  plus a fourth person will receive a $10.00 Amazon gift card. Don't forget to check the next month's newsletter to find out if you are one of the winners in August, and then contact me about receiving your prize!
1. Will you have a special memory of something you did this summer?
2. My upcoming five-book romantic suspense series, Montana Secrets, takes place in the Rockies. The books are written and ready, but I'm still working on the titles. I find titles so difficult! I'm thinking about using the word "Danger" in the title of each book, preceded or followed by a single word—or maybe two—that convey these one-sentence descriptions below. But if you think of a better word than "Danger" then I'd love to hear that idea as well. Our last baby didn't have a name for four days because I have such a time with naming!
Book #1 – A man takes in his young orphaned nephew, now a killer is after them both.
Book #2 – Involves an arsonist and a woman who owns an animal shelter.
Book #3 – Involves a female deputy and a violent criminal hiding in the mountains.
Book #4 – Involves a white water raft guide and a woman on the run.
Book #5 – Involves a woman in a witness protection program and a rancher.
TO LEAVE AN ANSWER: CLICK HERE to leave your comment at the bottom of my August blog post (the content echoes this newsletter.) Be sure to check the September newsletter to see if you are a winner!
ONLINE BOOKFAIRS!
I love sharing these opportunities with you every month. I always have a book in each of them, but you'll find lots of books by other authors—all at discounted prices, and some are free. Who knows? You might find your new, all-time favorite author! There's just one link today, but there will be more in my September issue.
August-September – Christian Fiction | Christian Romance | Clean Romance Full eBooks – $4.99 or less – some are even free!
https://books.bookfunnel.com/christian-fiction-romance/h7xb6ztgd4
And finally, here is a family recipe I love to make when the mornings grow cooler.
BLUEBERRY SCONES
Blend and set aside:
1 large egg
1/2 cup buttermilk
Mix in a separate large bowl:
3 cups AP flour
4 tsp baking powder
1/2 tsp baking soda
1 tsp salt
1/2 cup sugar
Next step:
1/2 cup COLD regular (salted) butter–not margarine!
1 1/2 cups blueberries… fresh or slightly thawed blueberries.
Add the butter to the flour mixture, and using a fork, cut into flour until you have large crumbles. Don't use your fingers as that will warm the dough and alter the texture (a trick I learned at a one-day cooking class in Paris.)
Next, gently work the egg & buttermilk mixture in with a fork. Gently add the blueberries and toss.
The mixture will seem very dry and crumbly. It is not going to be a smooth cohesive dough. If it is, you have overworked it.
Pat into the scone pan (you might not believe it at first, but yes–it will all fit!) or into appox. 9.5″ circle, approx one inch high on a baking sheet, or into a 9 inch round cake pan. The crumbly dough will result in a nice bumpy top.
Sprinkle heavily with sparkling sugar if you have it (coarse, large grain sugar, which stays glittery after baking) is so pretty!) and bake 375 degrees for 20-25 min, let cool in pan. You can find scone pans on Amazon…which will give you perfect slices.
Blessings,
Roxanne