Foggy mornings, pumpkin spice, flank steak and horses on the loose
First of all, I have a new release on September 10!  
I loved writing this one with its romance, suspense, and touches of humor.  And the animals too, as they've all factored into my own life at one time or another! Did I mention that I've been an animal lover since I was a toddler?   🙂
The hero's elderly aunt has a very soft heart and an endlessly growing menagerie that she shelters.  Until she abruptly takes off for an extended, rambling European tour, that is–leaving him to deal with an unexpected house guest with a troubled past, her young daughter, and one very recalcitrant miniature goat.
Interesting in finding out more?  CLICK HERE! 
It's FREE on Kindle Unlimited, and also for sale. I would so love to hear your feedback on this book. If you read it, please leave a few words of feedback on Amazon. It would mean a lot.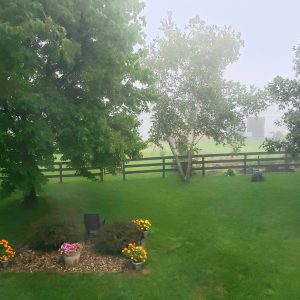 How are you enjoying September so far?  At the very end of August, we had our first foggy morning of autumn. Now that we are in September, the beautiful early morning fog appears briefly almost every day. Sometimes it's just wisps of low-lying mist, but this morning I can barely make out the horse barn as I look out our kitchen windows. Can you find the barn and the horse in the photo?
These foggy mornings bring back memories of my elementary school days in September. I loved being in a brightly lit classroom on foggy or rainy days, looking out the windows and imagining that anything could be outside, hidden within that veil. Dragons. Adventures. Lots of horses roaming by. Or maybe even my own horse,  because we didn't live far from school and Cherry had a penchant for adventure, too.
Cherry was tall–a seventeen hand part-Clydesdale –yet he could lay flat as a pancake, wiggle under the fence, and be off to visit the neighbors or wander far beyond until someone reported him. A deputy would occasionally show up at school to take me to wherever Cherry was. Small town life, back in the day!
Dad and I could always find the place where he'd escaped because the lower strands of wire were stretched and sagging.  But horses on the loose in our area weren't just mine. Our county had the second-highest horse population in the entire country at the time–many big stable and farms, but lots and lots of backyard horses as well. 
My dad endlessly patched our fence. Cherry continued to outsmart him. One night, some folks heard noises outside their bedroom window, turned on the lights and peered out into the darkness only to see what appeared to be an amorphous white blob with glittering eyes peering right back at them.  Terrified, they called the cops, claiming there was an alien outside.  But it was just Cherry, with his wide, white Clydesdale blaze, standing on their roses to have a look inside.
And then there was Rebel. This aptly named little gelding was Cherry's predecessor, and he was crafty as well about making his escapes.  When I was ten, I noticed an advertisement in the back of a magazine for return address labels. Entranced, I convinced my mom to order a set for me and then thought up names for my "stable"– actually just a one-horse addition to the one-stall garage in our backyard.  I decided on "Bittersweet Stable" because the plant grew along the side of  the garage. 
When they arrived I was so excited!  I plastered them on every brush, pail,  pitchfork, and bridle…and then I eyed the horse and merrily plastered him with labels from head to tail as well.  The next morning an unfamiliar deputy pulled into our drive. Rebel had escaped during the night and turned up miles away. The deputy just laughed, saying this was the first time he'd ever identified a loose horse by the return address labels on its rear.
Do you remember any amusing stories about your own childhood pets? I'd love to hear them!
AUGUST NEWSLETTER WINNERS: 
Thanks to all of you who replied to my questions in my August newsletter. All of the replies were wonderful, and many of you came up with excellent ideas for the title of my October book, too.  Each winner will receive an e-copy of The Mistletoe Puppy, the first of my six-novella Christmas series, plus one will also receive  $10.00 Amazon gift card.
To arrange delivery of your prize(s), these winners need to contact me via the "Contact" button at the top right of this website. 
GALE C: I have two special memories from this summer. First, we were introduced to a beautiful serene local Arboretum through friends that we haven't been able to spend time with during the pandemic. We walked for hours in total peace then enjoyed a light lunch in the on-site mansion all while enjoying the company of our good friends. Then we paid it forward by inviting and introducing another couple to join us for a wonderful morning and lunch. They were as thrilled as we were to find a safe environment to put all our troubles aside and enjoy nature. The other more special memory was celebrating, with our daughter's family, our son's birthday who sadly passed away 2 years ago. We were able to all be together for a bittersweet day while sharing a meal, fond memories that made us smile, cry and laugh and to make sure our son is never, ever forgotten. And of course his favorite ice cream birthday cake!
MARIA S:  I will have a special memory of celebrating my grandfather's 99th birthday this summer. He still lives on his own and is just amazing! We celebrated with all his neighbors. It's inspiring how they look out for each other!
TRACEY B:  My special memories of the summer will be of the time spent with my family on our staycation, playing miniature golf, visiting the beach, going to the movies, attending independent league baseball games, and outlet shopping.
TWO NEW QUESTIONS TO ANSWER FOR SEPTEMBER   (and a chance to win prizes):
In August, one question was about a good memory from this past summer. This month's questions:
Do you have a special memory from childhood—one that still makes you smile?

Do you prefer covers with just pretty objects or scenery? Or a cover with a couple? Or either a woman OR a man? Does this make a difference as to whether or not you will go on to read the back cover?
THREE WAYS TO FIND THE PLACE TO LEAVE COMMENTS:  I've heard from some folks who couldn't see how to leave their comments, so this should help!
1  There should be a "Leave a Reply" live link at the very bottom of this post.
2  If others have left comments, then there be a live link showing the number of replies, at the bottom of this post.  Just click it to open up Comments
3  Or, you can click the little "Comment" bubble symbol up at the top of this post, to the right of the title of the post.

                                                                      ~~~~~~~~
HERE ARE TWO ONLINE BOOKFAIRS OFFERING FREE AND BARGAIN BOOKS!  (just click these live links.)
Why not check them out and save money?
https://books.bookfunnel.com/christian-fiction-romance/h7xb6ztgd4
https://books.bookfunnel.com/fall_sweet_romance/h54d771kqj

AND HERE'S  A CHANCE AT A BIG GIVEAWAY!
STUFF YOUR TBR LIST GIVEAWAY
Could you use a Kindle Fire, or maybe an Amazon Gift Card? Or are you looking for the next series to feed your book addiction? How about yes to both! One lucky reader will get a Kindle Fire HD 8 and three others will get Amazon gift cards!  Click the link  below to check out some amazing books and to ENTER for your chances to WIN.
https://www.litring.com/stuff-your-tbr-list
~~~~~~~~~~~~~~~~~~~~~~~~~~~~~~~~
 AND FINALLY, HERE IS A FAMILY FAVORITE RECIPE!
Some years back I shared this recipe on my old website.  My kids were aghast. "You shared this with EVERYBODY??"  Granted, they were in high school at the time.  But they thought it should be a secret because it was sooo good.  They still hope I'll make it when they are home. I must have been just ten or twelve when I got the recipe from an elderly and very debonair friend of my parents. Though the kids at that dinner were supposed to be eating hotdogs, I snuck a sample of the steak and fell in love.
You need fast (very hot)  coals for this. Super hot. You want it to grill this fast, so the edges of your diamond cuts in the meat become very dark and caramelized, but the inside is still rare.  If overdone, flank can be pretty tough.
I use an overflowing coal chimney to start the coals. Wait until the top coals are all a dusty grayish white, about an hour. I dump the coals onto the lower grate of our  Weber grill, then add the top grate. I toss maybe  1/4  or 1/3  cup vegetable oil  over the coals t make them flame, then put on the steak while the flames are just  starting to lower. Be careful to not burn yourself!  It may only take three minutes on one side and a scant two to three on the other side. Many thanks to our SIL Matt for helping me upgrade my charcoal grilling techniques!
Final note: Follow this recipe exactly—no substitution for the bourbon ever tastes as good.  I've tried other cuts of meat, but none ever approached the flavor and texture of a flank steak. And if you are concerned about the bourbon,  don't worry—most of the marinade is left in the bag when you remove the steak, or drips off on the grill, and of what is left on the meat, I've read studies showing that approximately 65% of the remaining bourbon burns away during grilling.
FLANK STEAK  — Rustand
1/2  cup regular soy sauce
1 tsp  dry mustard
3-4 Tbsp bourbon
Fresh ground pepper—lots
3-4 finely chopped garlic cloves
2  Tbsp honey
Add enough water so you have one cup of marinade. Mix in two cup glass measuring cup and heat gently to blend in the honey.
Score both sides of a flank steak in a diamond pattern  (criss-cross angles— NOT cuts that are parallel to the longitudinal grain of the flank). Make the cuts approximately 1/4th   to  1/3rd  of the way into the meat.
Put the meat into a gallon ziplock storage bag and pour in the marinade.  Slosh it around, then lay the bag in a pan close to the size of the meat and marinate all day, turning the bag over every two hours (or so.)
Grill over HOT coals or in a hot gas grill so the outside is well seared but inside is rare.  It wouldn't be the same at all if done in a cast-iron skillet etc.
AFTER GRILLING:   Lay the grilled steak on a cutting board and slice thinly across the grain at approx. a 45 degree SLANT. This gives you thin, wider slices that will also much more tender this way.
Don't be tempted to pour any of the very flavorful used marinade over the grilled steak—it would be a food safety hazard.  If you are tempted, you could instead double the recipe and save the unused half in the refrigerator for drizzling over the meat before serving.
If there are kids at the meal, we do grilled cheeseburgers for them.
Have a wonderful September!
Roxanne