Author Lyn Cote asks, have you ever depended on an animal?
Lyn writes…
Today I want to tell you about an important animal character in my latest book, La Belle Christiane. First I should admit that I'm not a horse person. I love dogs and cats but prefer cats as pets now. But in La Belle Christiane, my heroine depends on Nancy, her horse. In this day and age, we don't recall a period when horses and men were linked by necessity. A horse often meant the difference between survival and death. Now imagine this scene, the beautiful young girl on my cover in an inn's filthy stable in with her escort an English officer.
An excerpt follows from Lyn's new book La Belle Christiane….available this week as a $.99 ebook!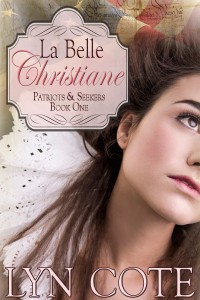 For Kindle Readers link: http://amzn.to/neGyOP
For All Other Ereaders such as the Nook purchase link:
http://www.smashwords.com/books/view/92021
"Eastham was not going to let this disreputable innkeeper out of his sight. He had no respect for any man who did not care for his animals. Waiting, the trio stood in an uncomfortable, shivering silence, broken only by Nancy's painful breathing. The major moved closer to Christiane, shielding her from the drafts.
As Christiane waited, different memories passed through her mind. She saw Nancy and herself, escaping the devastated Rumsveld with the two little boys. She saw Tobias Ander walking beside Nancy, turning up his face to look at Christiane as they traveled southward. At the end, she saw the mare in the stark moonlight on the night they had searched for young Ben together. Nancy had been through so much with her. Tears welled up in her eyes, so she looked down at her shoes.
"Madame, are your feet cold? Would you prefer to wait inside by the fire?"
"No," she answered, looking up at him. He saw her wet eyes and once again she won his sympathy. He knew what it was to be attached to an animal.
Then they heard the voices: one a loud female with a thick German accent and the other the private's piping tones. The barn doors opened, admitting the two along with a fresh blast of icy air.
"You got sick horse?" the older woman asked.
"Can you do anything for her?" the major bawled.
"Ja," she answered in booming tones. "But not in dis dirt!" She put her shawl to her nose to demonstrate her disgust.
The major and Christiane exchanged looks. She nodded.
Carefully Christiane threaded her way through the refuse to Nancy's side again. Then she knelt beside the horse and began stroking her neck and explaining to her as though the mare were her child. Then she stood and slipped a nearby bridle over the mare's head and coaxed in gentle tones, pulling lightly on the rein.
The four observers watched silently, each one evidently curious to see if she could get the mare on her feet. Then Nancy began to rock, front and back. Painfully, slowly, she pulled herself to her knees and then to her feet. She stood, wheezing and gasping for breath. Christiane threw her arms around the mare's neck and hugged her. "Oh, Nancy, good girl!"
"Ve take her to mein barn!" The old woman looked around and located a dusty old horse blanket, hanging from a peg. Quickly the two women draped it over the horse's back and led her from the stall.
Major Eastham fixed an eye on the culprit. He knew it would be very difficult to prove any charge against the innkeeper, at least this time. "You will be watched," he said ominously to the worried man.
This scene takes place early in Christiane and Eastham's relationship. I think it revealed much about both of them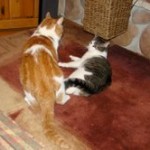 to each other.   Have you ever depended on an animal? Right now I know my dh and I depend on our cats to give us joy and entertainment. Both of us agree-our home would be a boring place without them!
Lyn Cote