A new gal is moving into our barn!
We seem to seeing more and more spots in front of our eyes these days!  Last fall I found Susie, a 14.1 hand paint mare small and quiet enough for the young grandkids can ride, but since then I've been on the lookout for another super quiet, older horse so they can ride together, if they want to.
This proved to be a banner week, because I just found Buttons!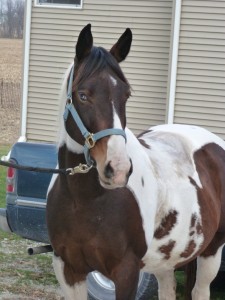 Her registered name is a lot longer, but  her nickname is sweet and fits her to a T. She's a paint, with little button-like spots here and there on her off side (not shown in the photo.)    I rode her yesterday for several hours through a small town, on a road, and over harvested cornfields, and she was just the sweetest, calmest gal.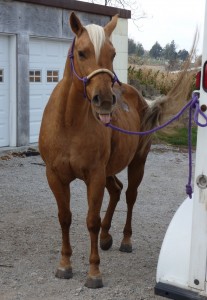 Her favorite speed is a slooooow walk.  Perfect, for what we need.  With the right horse, children will love to ride for a lifetime.  The wrong one–too sensitive or too much for them to handle–and that's a recipe for disaster.
I'm also  considering her dark palomino stablemate, who is quite a glamor puss, with that unusually dark palomino color contrasting with the light mane and tail.
This hunt for bombproof, pokey horses for the grandkids is quite a change, from what I have enjoyed riding all of my life.  But it's definitely the direction we need to go to make riding fun and safe for them.
These photos were taken at the mares'  owner's place. What do you think of Buttons and Allie?