Guest blogger: Cindy Gerard
Because they're cute. We all like cute, right?  Cute babies, cute critters, cute guys??    I mean – look at these cats. This is Buddy and Sly.  They're hugging.  It's adorable.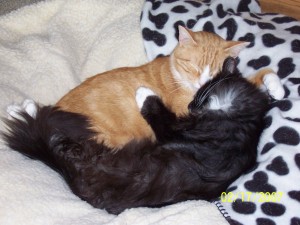 And here's Buddy helping me make the bed.
Makes you go, 'aweeee' doesn't it?

Or how about this one?  Could he have FOUND a smaller basket?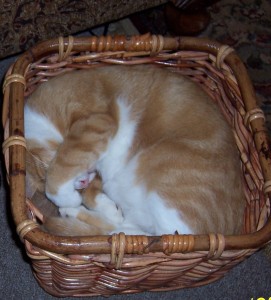 What these cute pictures DON'T show is the side of their nature that turns up their nose at the exact same cat food they've been eating all month, or the times when I call kitty, kitty because I want something warm and snuggle on my lap and they just tiptoe on by as if I'm a lump of doggie-do and they're the kings of the world.  Not so cute then.  But time and time, I forgive them because … they're cute.
Cute guys get by with murder.  They can be mean, nasty, arrogant and irreverent but in the end, if they're cute, MOST of the time we forgive them.
Cute, unfortunately – or fortunately if you're among those cute masses – gets you places.  It gets you out of traffic tickets, it gets you concert tickets, it gets you to the front of the line.  So today, I'm asking – confession time here – have you ever used your own cuteness quotient to get you something you wanted or out of something you wanted?  If so, what was it?  And what is it about the cute factor that negates all the ugly stuff that sometimes goes with the package?
And least I forget – check out the cute, hot guy on my July release WITH NO REMORSE  I don't know about you, but this guy could get by with a lot because he's …. well, cute :o)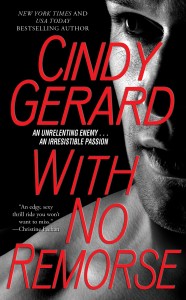 Speaking of guys … and this is important … SEAL OF MY DREAMS will be released (and is available for pre-order on Kindle NOW) on Veterans Day, 11-11-11.  SOMD is a collection of short stories written by 18 wonderful authors who all volunteered their time and talents to help our wounded warriors.
ALL proceeds from SEAL OF MY DREAMS will go the Veteran's Medical Research Foundation. www.sealofmydreams.com So be sure to look for this book, okay?  It's a wonderful way to give back to those who gave so much AND get a great read in the process.
Cindy Gerard
www.cindygerard.com