Why I write about service dogs by Margaret Daley
Guest blog  by Margaret Daley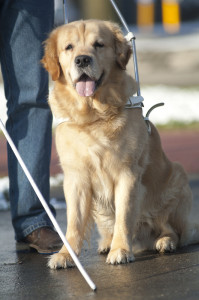 When I taught students with special needs, I occasionally had the chance to also work with a service dog. They are amazing animals. Dogs are used to help people with various problems, not only with different disabili
ties (like blindness, epilepsy, diabetes, physical, post traumatic syndrome disorder) but also with helping law enforcement with bomb detecting, drug detecting, suspect apprehension, tracking and cadaver retrieval.
Their scent of smell is keen compare to ours. For example, they can smell a dead person buried in the ground or deep under the water. They can sense things in us that we aren't even aware of.
My vet told me about a service dog that was with his owner who is diabetic at the airport. The service dog indicated a passenger who was forty feet away had plummeting blood sugar, which was the case. Many animals can sense when someone is in need of emotional support, whether in grief, depression or pain.
Have you known a service (or therapy) dog or seen one in action? What kind of dog was it?
About author Margaret Daley
Margaret Daley, an award-winning author of ninety books (five million sold worldwide), has been married for over forty years and is a firm believer in romance and love. When she isn't traveling, she's writing love stories, often with a suspense thread and corralling her three cats that think they rule her household. To find out more about Margaret visit her website at http://www.margaretdaley.com.
Here's a link to Margaret Daley's new book!   Her Hometown Hero (Love Inspired\Caring Canines)
Her Hometown Hero
Book 3 in Caring Canines Series
by Margaret Daley
Love Inspired
Home to a Cowboy
In a split second, a tragic accident ends Kathleen Somers's ballet career. Her dreams shattered, she returns home to the Soaring S ranch…and her first love. Suddenly the local veterinarian, Dr. Nate Sterling, goes from her ex to her champion. With the help of a lively poodle therapy dog, the cowboy vet sets out to challenge Kathleen's strength and heal her heart. He'll show her there's life beyond dance, even if it means she leaves town again. But maybe, just maybe, he'll convince her there's only one thing in life worth having…and he's standing right in front of her.
Caring Canines: Loving and loyal, these dogs mend hearts.