Lessons from Muggs…the Himalayan Cat
How My Himalayan Cat Enriched My Life, by guest blogger Nicola Furlong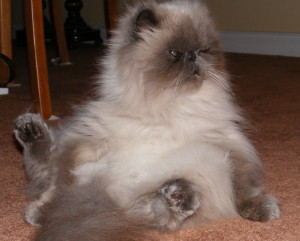 This is a painful post to compose. I am facing every pet owner's worst fear: zero day is looming for Muggs, my adored Himalayan. He arrived over ten years ago, found abandoned and catnapped by friends.
Age unknown, emaciated, and near death, he was hobbled by a concrete Mohawk running up his bony back, suffering from damaged kidneys, but blessed with a sweet and forgiving personality.
After a massive shot of anti-biotics, a buzz cut and a couple of days sucking tuna juice from a syringe, Muggs darted up and down the carpeted hallway completely unafraid of my astonished Australian terrier. His hilarious saucer face, spectacular daily gymnastic cleaning routine, and startling empathetic manner became a decade of life treasures.
Now, my sweet little guy is eating less, rickety in action, and I have to inject him with subcutaneous fluids every second day to support his faulty kidneys. The dreaded decision will have to be made, way too soon.
While I ponder this terrible responsibility, I'd like to share six essential Muggisms gleaned from living with and loving my six pound feline:
1) Regal Rules: Ask gently, accompanied by a soft pad to the face, and you shall receive.
2) Face Failure: When you are defeated, yowl once, and then stalk right back into the game.
3) Be Bold: Walk softly and always hold a haughty attitude.
4) Manage Emotions: Surrender to claw-ripping anger only as a last swift resort, and then pose triumphantly.
5) Don't Dwell: A hairball is not the end of the world, and anyway, somebody else will clean it up.
6) Daily Musts: Purr, wash, play, knead and gaze, not necessarily in that order.
I know my heart soon will be broken, but as a writer, I have the ability to bestow the gift of immortality.
In HOMEFIRES, Book 2 of my new series called the SISTERHOOD OF SHEPHERDS, I've introduced an abandoned Himalayan who is found and immediately cherished by the Shepherd family.Though he has a different name, little Phoenix's rise to life guarantees longevity to the singular spirit of my beloved cat.  Thank you for letting me momentarily ease my anguish by sharing the joy of living with Muggs.
Here is an Amazon link  to buy Nicola's book!  Heartsong: Sisterhood of Shepherds
HEARTSONG
BOOK 1   SISTERHOOD OF SHEPHERDS
published in trade paperback and ebook by Mantle Rock, May 2014. 
Award-winning author Sandi Rog says HEARTSONG will "reach right in and take hold of your heart, seizing it until the very last page."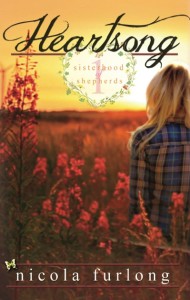 Have You Ever Thought — There Must be More to Life?
Thirty-something Oregon plant nursery owner and single mom, Charly Shepherd has. She knows the joys and sorrows of digging in the dirt, but discovers she yearns for more in HEARTSONG, a charming cozy novel of family, forgiveness and forgotten promises.
Everyone has regrets. Sometimes we wish we had the chance and the courage to make amends. These Cold Cases of the Heart are at the center of the bestselling family saga series, the SISTERHOOD OF SHEPHERDS. When Faith, Hope and Charly, three quirky Oregon sisters, reluctantly delve into family secrets to help their ailing father fulfill a promise, their lives change forever as they pursue a new path of discovery, heartache and humor.
If you like Debbie Macomber, Jan Karon or Fern Michaels, you'll love Nicola Furlong.
Nicola pens mystery & inspirational novels, creates interactive iPad books, podcasts about genre writing (The Novel Experience), & teaches e-publishing, when not playing Old-Timer's hockey, growing blossoms & bamboo or eating chocolate fudge. Her first contemporary women's series, the Sisterhood of Shepherds, debuted with HEARTSONG, in June 2014 (MantleRockPublishing).
Nicola's swinging whodunit, TEED OFF! (republished in February 2014 by OakTreePress), features professional golfer and coroner Riley Quinn.
Her other novels include a psychological thriller (A HEMORRHAGING OF SOULS), six novels in The Church Choir Mysteries series and a multimedia online thriller, UNNATURALSTATES.
In addition, Nicola has published three how to ebook primers, TOP TEN GARDENING TIPS, YOUDUNIT WHODUNIT! HOW TO WRITE MYSTERIES & SELF-PUBLISH YOUR E-BOOK IN MINUTES! She's recently released her first musical interactive children's book for the iPad, Saving Grape-Jelly Cheeks.
Nicola gardens in a small seaside town on southern Vancouver Island, British Columbia. For more information, visit  http://www.nicolafurlong.com   or    http://www.quillr.com.