Author Gail Gaymer Martin asks: Did you lose a kitten?!
by guest blogger Gail Martin
My latest novel includes a cat named Whimsey, and she's one of the most memorable characters in the novel along with her owner, Aunt Winnie. Neither is a main character, although they are unique and special people, but I love animals and enjoy them in my novels. I've always had pets, and one, like Whimsey, is still in my heart.
Many years ago while camping, my husband and I heard a rustling noise outside. Assuming it was a critter in our camping gear, my husband opened the camper door and let out our dog. But instead of a critter, we spotted a tiny little tabby kitten staring at us.
Who could resist? We brought her in, gave her something to eat and drink and kept her until morning when we could try to find the owner. We headed for nearby homes, and after being laughed at by the first two families who told us people always brought unwanted pets into the woods, we gave up. Since the humane society was sixty miles away, we called people we knew, trying to find a good home for the kitten. No one was interested. So along with two dogs, we returned home with a kitten. And you can probably guess who ended up taking her in. We did. We named the poor little stray Waif but added an e and r at the end, so she became Waifer.
Waifer was one of those characters whose favorite trick was to bat at my knitting needles and knock the ball of yarn across the floor. She loved to climb on my desk when I was working and lay across the top of the papers. She gave us laughter and love. As she aged, she became ill, and though we took her the vet and gave her medication, she lost weight and looked bad. Selfishly, I didn't have the heart to put her to sleep.
When we had a month long trip planned for Europe and had no family who could care for her, reality finally sank in. It was time to say goodbye and do the unthinkable. With one week to go, we made plans to take her to the vet's office on the Saturday before our trip. The Wednesday before as I passed the rocking chair where Waifer loved to lie, I saw her there but something looked strange. My heart skipped, and a sob left my throat. I called my husband. When he looked, he agreed, She was gone. Though I cried, I also knew the little sweetheart gave us an amazing gift. We didn't have to take her to the vet. She left on her own terms. What a blessing.
When I added Whimsey to my romance mystery, Treasures of Her Heart, I couldn't help but think of Waifer. Whimsey is also a tabby and one who loves many of the same antics as Waifer.
Saying goodbye to a pet is as hard as saying goodbye to family? Have you had to say goodbye and  make that difficult decision, or were you blessed as we were?
Here's an Amazon link to buy  Gail's latest book!   Treasures of Her Heart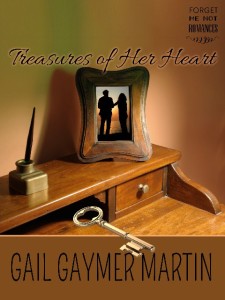 Treasures of Her Heart
A Forget Me Not Romance
June, 2014
Nikki Townley a fashion-buyer, looking for a life with deeper meaning, leaves her career and moves to a small, tourist town in northern Michigan to assist her ailing great-aunt Winnie in running her floundering antique business. There she finds herself caught in a mystery searching for her aunt's missing fortune, facing an investment company in pursuit of her aunt's property, and hoping to save long-distance romance with her faithful male friend Rob Moore, while struggling to escape her attraction to an exciting, smooth-talking womanizer. Can she overcome temptation, locate the missing fortune and find the truth to the treasures of her heart? Will Rob wait for Nikki to make up her mind?
What are people saying?
Romance, and mystery come together in perfect harmony. You will delve into Nikki's heartfelt journey from beginning to end. I highly recommend this wonderful author and this wonderful novel. Naomi Anderson, Amazon Review
I have to say that this book (by Gail Gaymer Martin) is now one of my favorites. I highly recommend this book. If you want a very sweet romance with a good mystery included, you will love this book. I know I really did. M. A. Young, Amazon Review
I quickly fell in love with this engaging story of romance and mystery. I found it hard to put the book down from chapter one to the final word in the last chapter. Gail Gaymer Martin has written another winning story that will warm your heart.  J Pobst, Amazon Review
Treasures of Her Heart, a Mystery Romance available as a paperback and eBook. Click here to read an excerpt on Amazon.
Multi-award-winning novelist, Gail Gaymer Martin is the author of contemporary romance, romantic suspense, and women's fiction with 55 published novels and nearly 4 million books in print. Her novels have received numerous national awards, including: the ACFW Carol Award, Booksellers Best and RT Reviewer's Choice Award. CBS local news listed Gail as one of the four best writers in the Detroit area. She is the author of Writer Digest's Writing the Christian Romance and is a cofounder of American Christian Fiction Writers where she serves on their Executive Board. Gail is a member of Advanced Speakers and Writers (ASWA) as well as Christian Authors Network (CAN) and is a keynote speaker at women's events at churches, civic and business organizations as well as a workshop presenter at conferences across the U.S. Gail lives in Michigan with her husband. Visit her at: Website: www.gailgaymermartin.com