Dogs, and Obeying the Master's Voice
by guest blogger  Cindy Thomson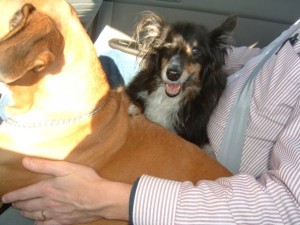 I actually used to think I wasn't a dog person. That seems so silly to me now. I grew up with dogs, although they were kept outside. When my boys were young I didn't want a dog, and that's probably because I felt so overwhelmed raising three boys and working. (No matter what the kids say, the mom takes care of the dog, right?)
We did get a dog when the boys were older, our sweet Sheltie named Cody.
He was so loving and never meant to be any trouble at all. If you know Shelties, you know how they follow you everywhere just so they can plop down on the floor beside your feet. He's been gone a few years now, but we have "granddogs" who visit, and that's a lot of fun. So it didn't surprise me when a dog entered the novel I'm currently working on.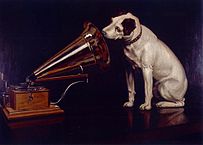 In my story everyone thinks this dog looks just like the Victor dog, the one on the record labels. He's going to have an important part in the story, teaching my characters about faithfulness and obedience and unconditional love. I can't think of a more fitting example. This fictional dog—his name is Luigi—charms children, is obedient to his master, is a constant and comforting companion, but also is smart and intuitive, making up for what is sometimes lacking in his owner.
My inspiration is the story about the real Victor dog, Nipper. Nipper was a terrier mix that lived in the late 1800s in England. He belonged to Mark Henry Barraud and upon Barraud's death became the companion of his brother Frances. Sometime after Nipper died Frances created the famous painting of Nipper listening to his departed owner's voice on a gramophone. Eventually this painting was purchased by The Gramophone Company and some years later became the Victor advertising image His Master's Voice. The U.S. trademark was registered in 1900.
Anyone who has seen a dog twist his head at an odd angle while trying to understand something you've said to him instantly understands the image Barraud painted. I know Cody used to do this a lot. But I was also intrigued by the fact that the dog in the painting was hearing a voice that he had long listened to and obeyed, and although the voice was gone from this earth, he still listened.
Obeying the Master's voice is not easy, but we can be trained to listen. Listening is almost a lost art these days. Those are the themes I hope to explore in this novel I'm currently working on. If you'd like to follow me on my journey, sign up for my email newsletter on my website: www.cindyswriting.com or follow my Facebook page www.facebook.com/cindyswriting for updates.
What's the greatest lesson you learned from your pet?
Here is an Amazon link for Cindy's newest release!   Annie's Stories (Ellis Island)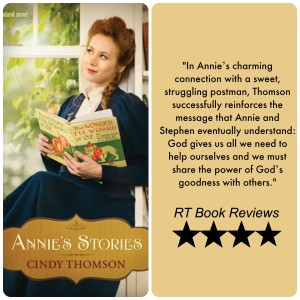 Annie's Stories, Book Two in The Ellis Island Series
Cindy Thomson
Tyndale House Publishers
July 1, 2014
The year is 1901, the literary sensation The Wonderful Wizard of Oz is taking New York City by storm, and everyone wonders where the next great book will come from. But to Annie Gallagher, stories are more than entertainment—they're a sweet reminder of her storyteller father. After his death, Annie fled Ireland for the land of dreams, finding work at Hawkins House.
But when a fellow boarder with something to hide is accused of misconduct and authorities threaten to shut down the boardinghouse, Annie fears she may lose her new friends, her housekeeping job . . . and her means of funding her dream: a memorial library to honor her father. Furthermore, the friendly postman shows a little too much interest in Annie—and in her father's unpublished stories. In fact, he suspects these tales may hold a grand secret.
Though the postman's intentions seem pure, Annie wants to share her father's stories on her own terms. Determined to prove herself, Annie must forge her own path to aid her friend and create the future she's always envisioned . . . where dreams really do come true.
About the author…
Cindy Thomson's love of history and her Scots-Irish heritage inspired much of her writing, including her new Ellis Island series. Cindy is also the author of Brigid of Ireland and Celtic Wisdom: Treasures from Ireland, and is co-author of Three Finger: The Mordecai Brown Story. Cindy has written on a regular basis for numerous online and print publications and is a mentor for the Jerry B. Jenkins Christian Writers Guild.