Peppermint Patties, A White Christmas, & Laura Hilton
guest blogger  Laura Hilton
This is a new recipe we discovered. If you like York Peppermint Patties, you'll love these.  While not featured in my book, this is a recipe Mercy would've made.
The stacked peppermint patty tree is shown here–and this is Nanook, who was eyeing this treat and wishing it was his!
Christmas Peppermint Patties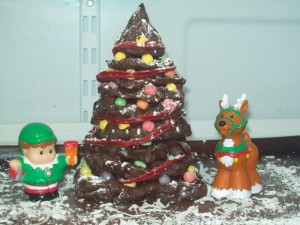 3 ¾ cups powdered sugar
3 T butter (not oleo) softened
2 or 3 t. peppermint extract
½ t vanilla
¼ c. evaporated milk
2 c. semisweet chocolate chips
2 T. shortening
Combine first four ingredients, add milk and mix well. Roll into 1-inch balls and place on waxed paper-lined cookie sheet.  Chill for about 20 minutes. Flatten with a glass to 1/4 –inch thick; chill for 30 minutes. Melt chocolate chips and shortening. Dip patties; place on waxed paper to harden. Yield: About 5 dozen.
Here is a link to Laura Hilton's book!     White Christmas in Webster County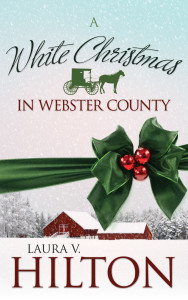 A White Christmas in Webster County
(September 2014, Whitaker House)
Wanting to relocate from Shipshewana to somewhere new, Mercy Lapp answered an ad in The Budget to work as a mother's helper for Matthew and Shanna Yoder in Seymour, Missouri. Mercy relocated from Shipshewana to give herself space and time to heal after the death of her beau in a fishing trip on Lake Michigan. Abner Hilty fled Shipshewana to Montana to work on a ranch after he and his twin brother witnessed a murder.
Now that the killer is safely behind bars, Abner decides to visit his brother Abram in Missouri where he'd settled with his bride of one month. Mercy is surprised to see Abner there, and equally surprised by how much he'd changed physically since she'd last seen him. Even though the two live in different districts they occasionally see each other in town and form a fledging friendship.
As Christmas approaches, an unexpected heavy snow lets Abner and Mercy spend a lot of time together in wintertime fun. Abner hopes to interest Mercy in a more permanent relationship. But then Mercy has a potentially life changing discovery. Will she return to Shipshewana to answer the summons of the past? Or settle in a new place?
A Christmas Romance.  A chance for a new beginning. Then her past is resurrected.
ABOUT THE AUTHOR:  Award winning author, Laura Hilton, her husband, Steve, and their five children make their home in Horseshoe Bend, Arkansas. She is a pastor's wife, a stay-at-home mom and home-schools three of her children. Her two oldest children are homeschool graduates and are in college. Laura is also a breast cancer survivor. 
Her publishing credits include three books in the Amish of Seymour series from Whitaker House: Patchwork Dreams, A Harvest of Hearts (winner of the 2012 Clash of the Titles Award in two categories), and Promised to Another. The Amish of Webster County series, Healing Love (finalist for the 2013 Christian Retail Awards). Surrendered Love and Awakened Love. A nonAmish book Swept Away will release November 2014 from Abingdon Press. She is contracted for another three book Amish series with Whitaker House, The Amish of Jamesport series, begins in November 2014 with The Snow Globe, The Postcard in June 2015, and The Bird House in September 2015, and A White Christmas in Webster County (Amish) releasing in September 2014. Laura is a member of American Christian Fiction Writers and a professional book reviewer for the Christian market, with over a thousand book reviews published at various online review sites.
http://www.amazon.com/Laura-V.-Hilton/e/B004IRSM5Q
visit my blogs: http://lighthouse-academy.blogspot.com/  & http://lauravhilton.blogspot.com/
twitter: @Laura_V_Hilton