Turning toward autumn…author Marta Perry
By guest blogger Marta Perry
Almost without my noticing, fall has arrived in our valley in central Pennsylvania. Each morning when I walk out to road to get the newspaper, I can see and feel the changes in the air. The rising sun, still not visible from here in the valley floor, turns the tops of the ridges to gold and orange and
reflects from the moon above the trees. Some mornings the fog hangs in the creek valley, blanketing the fields and the orchard. There's a definite sense in something as simple as the slant of the sunlight that the season is turning toward the long sleep of winter.
Our county fair has come and gone. Prize ribbons are hung up or put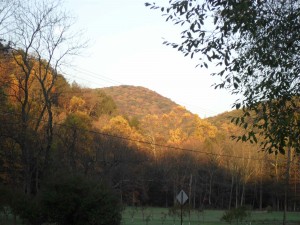 carefully away in a box with the ribbons from every other year, the 4H project cows have been sold to the mingled tears and pride of their young owners, and all of us who ate our way around the food stands are thinking it's time to go on an after-fair diet!
Despite the faint melancholy that accompanies the end of another growing season, it's time to move on. The pantry is stocked with the jars of tomatoes and sauce I put up, and the freezer is jammed to capacity with jelly as well as bags of corn, raspberries, blackberries, strawberries, blueberries, and rhubarb. In the middle of winter, there's nothing quite so satisfying as opening a jar of jam and being transported back to a warm July day and the taste of raspberries picked and eaten straight from the bushes.
One of the greatest pleasures of fall for me is that it's apple season. The local orchards had a banner year, and I've been busy making apple cake, apple dumplings, apple bread pudding, and of course applesauce.
One of our favorite desserts is my mother's recipe for apple walnut cake, and I'd love to share it with you.
Apple Walnut Cake
4 cups pared, chopped apples
2 cups sugar
2 eggs
½ cup vegetable oil
2 teaspoons vanilla
2 cups flour
2 teaspoons baking soda
2 teaspoons cinnamon
1 teaspoon salt
1 cup chopped walnuts
Preheat the oven to 350ºF.
Combine the apples and sugar in a bowl and set aside. Beat the eggs in the oil and vanilla in a large bowl. In third bowl, sift together the flour, baking soda, cinnamon, and salt. Stir the flour mixture and the apple mixture alternately into the oil and vanilla. Add the walnuts and stir. Pour the batter into a 13 x 9- inch pan sprayed with cooking spray. Bake for one hour. Good served warm with whipped cream or ice cream.
I'd be happy to send you a signed bookmark and my brochure of Pennsylvania Dutch recipes. Just send your name and address to me at marta@martaperry.com
Marta
And now a note from Roxanne: here are two of Marta's new releases!  She is a best-selling author, and you won't want to miss these books!  I usually give you Amazon links for an easy click-through to buy, but Amazon is not cooperating for some reason and won't allow a link.  I'll try again later….but in the meantime, you can search for these books  on Amazon  or  eHarlequin.com.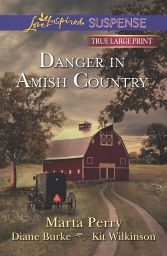 Danger in Amish Country
Marta Perry
Love Inspired Suspense
October, 2013
Love and danger collide in three new Amish novellas—
Fall from Grace by Marta Perry
When one of her students witnesses a crime, Sara Esch gets too close to the truth, and widower Caleb King must risk it all for the woman who's taught him to love again.
Dangerous Homecoming by Diane Burke
Katie Lapp needs her childhood friend Joshua Miller more than ever when someone threatens her late husband's farm. Can Joshua protect her…even if it endangers his heart?
Return to Willow Trace by Kit Wilkinson
A series of accidents has startled their Plain community…and lead Lydia Stoltz to Joseph Yoder, the man who once broke her heart. At every turn, it seems their shared past hold the key to their future.
Search the Dark

by Marta Perry
HQN Books
October, 2013
Sometimes the past is best left buried….
Meredith King longs for escape. Life in Deer Run is stifling, the Amish town too small for a modern woman staying just to care for her ailing mother. When a friend enlists her help in clearing the name of an Amish boy whose decades old death is till shrouded in mystery, she welcomes the challenge. But when a ghost from her own past reappears, there is suddenly a lot more at stake.
Zach Randal was always a bad boy, and their romance never had a chance. As charming as ever, he returns to town on the heels of a deadly new threat. Is Zach as dangerous as Meredith was always led to believe? Or is the attraction they both feel the only thing that can save them from harm?