A Furry Remedy, by author Jerusha Agen
by guest blogger Jerusha Agen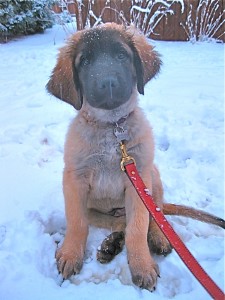 He was destined to be a therapy dog. When we decided to get another puppy, we had one goal—find a pup that would grow into a dog I could use for animal-assisted therapy work. God gave me a heart for the positive impact that dogs can have on people in need at hospitals and elsewhere. Surely nothing could be wrong with the desire to do such wonderful work, to share my love of a special dog with others as he gave them the healing benefits of doggieness.
The hunt for the perfect therapy dog seemed easy. We found a breed of dog that the books, owners, and breeders all said was naturally suited to therapy work. Then, we located a responsible, reputable breeder.
The magical day came when we brought our little bundle of fluff home. He was perfect. His adorable puppy charm had people fawning over him. The adoration was mutual, humans apparently being the pup's favorite thing. He loved all strangers, but especially children, and knew how to sense what they needed. When an uncertain child would hesitate at the sight of him, our little puppy would sit on his own and restrain his obvious excitement as he held still (except for the little tail wagging a mile a minute) until the child became comfortable enough to approach him.
I had a gifted therapy dog for sure. Sweet visions swelled my heart as I looked forward to the great things my dog and I would do together. I saw ill children at hospitals bursting into smiles at the sight of my dog, or the elderly at nursing homes speaking for the first time in months because of my dog's magical influence.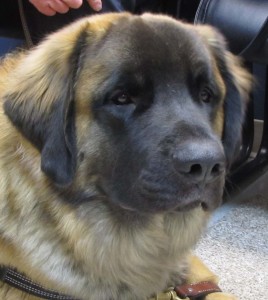 But, as our puppy neared six months, everything changed. He started to act timid around new objects and places. Then, the worst happened—he became afraid of people. Our puppy who had once adored people more than anything now pulled back and eventually cowered at the sight of any stranger, including children.
"No, he's never been abused," we assured concerned onlookers. "Yes, we socialized him. Yes, he came from a good breeder." Whether because of genetics, pain from a growth issue, or hidden trauma, we no longer had a potential therapy dog, we had a fearful and reactive one.
This was not my plan. Our new puppy was supposed to love people and enable me to help them, not be terrified of everyone and everything. What could I do with a dog like that?
God had other plans. He has taught me that there are different kinds of therapy. Our puppy, now almost two years old, is having an unexpected effect on me. With a sensitive dog in the house, I have to learn to not be so easily stressed myself. For me, this is a tall order, but having my sensitive pooch in the room reminds me to take in a breath and let out a dog-sized sigh of relief. It's for his sake, of course, so he won't pick up on my stress and become more nervous himself. Yet, I think I'm the one who's really getting the benefits.
He's also teaching me about fear. I can worry and be anxious with the best
of them, but when I see how my dog becomes so terrified of "ridiculous" things, it puts my fears in perspective. Can I really say any of my fears are more rational when I know the God who made and controls all things, who promises only good for me? Sometimes I wonder if I seem as silly to God as my puppy sometimes seems to me. I doubt I'm any more brave, logical, or intelligent in God's eyes when I'm getting anxious and stressed.
It seems, after all, that my puppy was destined to be a therapy dog. Turns out, I was the one who needed the therapy.
 To buy Jerusha's book, click here!
This Dance (Sisters Redeemed Series) (Volume 1)
This Dance
by Jerusha Agen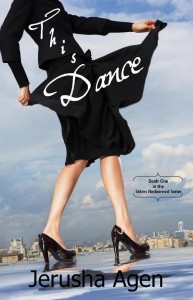 In my novel, THIS DANCE,
Nye Sanders is a woman who has everything together on the outside, but admits to herself that she relies heavily on her German Shepherd Dog, Jordan, to help her through her years of grief. He's her faithful companion, and the one guy with whom she can let down her guard—the one she can lean on. He's her therapy dog. Like me, Nye doesn't know how much she needs it.
Have you ever had a pet who did not turn out to be what you expected? Or do you have one that is teaching you something? Please share!