Naming Horses..by author Anita Mae Draper
by guest blogger Anita Mae Draper
Note:  Anita is holding a drawing for one $10.00 Starbucks gift card to be given to a person who comments before midnight, Tues Oct 29th and leaves a method of contact, Winner will be announced through a comment on this post, so come back then!  

The Sixties were a big era for Wild West TV shows, but our single channel station only brought one that I remember clearly—Bonanza. I especially liked the way the male characters interacted with their horses. To this day, I can't imagine Little Joe without his unique laugh, or his paint, Cochise http://ponderosascenery.homestead.com/cochise.html   And although I've read the reports that say Lorne Greene wasn't comfortable around horses and didn't like riding, as a young girl enthralled with life on the Ponderosa, Mr. Ben Cartwright looked mighty fine up there on that big buckskin aptly named, Buck.
When I was eleven years old, my family moved to a rented farm on the outskirts of Thunder Bay, Ontario. We brought a small mini-bike with us – reportedly to drive across the fields. Since we didn't have cattle, we thought our parents wanted us to have fun, but Mom must have balked at the thought of us bombing up and down the highway –
quiet as it was – with none of us in our teens, never mind old enough to get a license, because a few weeks later, Dad left with the mini-bike and brought home a Shetland pony.
It happened to be the day before my twelfth birthday, and the pony answered to the familiar name of Flicka. I remember thinking that someone lacked imagination because they'd copied the name from the novel, My Friend, Flicka, but I wasn't about to complain about the name when I finally had a horse. Although the ground looked a long way down when seated in the saddle, by the looks of the photograph, I was almost too big for Flicka.  Photo: c1968 Anita Mae Draper, 12 yrs old, on Flicka
It seemed only natural then, when I started writing stories as a fourteen-year-old, that I wrote westerns. What I lacked in grammar and writing craft, I made up for in characters with colorful names—both the two and four-legged kind. Cows named Bessie, Bossy and Belle. Horses named Midnight, Star, and Joe. Throw in a dog named Susie and a cat named Buttons, and I had a whole barn full of ornery critters to liven up my stories.
In the world of writing, each main character needs a friend. In a romance, you want the hero and heroine to spend most of their time together, but you also want someone they can go to for advice, or someone who'll listen without comment until they figure it out for themselves. This is often where I've used horses in my westerns. Horses are intelligent. They know when you're talking to them and even respond with a whinny, head bob, or nicker depending on the circumstances.
In my current revision project, my hero's constant companion is the horse he was given as a boy. When he first saw the young colt with its bristly mane standing straight up and its tail tall and bent like a Rooster's tail feathers, he called the colt, Rooster. But when I entered this story in writing contests, I was told it wasn't a proper name for a horse. Or that a silly name detracted from the seriousness of the story. Or that, "Whoa, boy," was sufficient for a horse that wasn't a pet.
Really? To me, the thought of not giving a name to a horse is like calling your dog, Dog. Or your cat, Cat. What about calling your dairy cow, Milk?
Riding on a Christmas Wish
is published in A CUP OF CHRISTMAS CHEER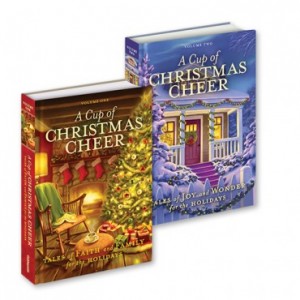 Volume 1, Guideposts Books
Oct 2013
The short story I wrote for A Cup of Christmas Cheer is set in 1911 York County, Ontario, Canada, and although it's called, Riding on a Christmas Wish, it's about a young girl who wants a bicycle for Christmas. This story is about a farm family similar to the kind you'd find in a Lucy Maud Montgomery story. In my story, the family owns two horses. The light horse is used by the mother, Eliza to run errands with the buggy and cutter. The heavier work horse is used in the wood lot by the father, Thomas, and also when the family of three go on an outing together. After much contemplation, I named Eliza's light horse, Thunder, and Thomas's heavy horse, Lightning. Why? Because I left myself the option of giving the reader the unexpected.
Link to buy: http://www.shopguideposts.org/a-cup-of-christmas-cheer.html
http://www.anitamaedraper.com/
www.anitamaedraper.com/author-memories.html
http://www.inkwellinspirations.com/
www.twitter.com/anitamaedraper
https://www.facebook.com/anita.draper