How many of you love taking pictures?  I've loved photography since I was a little girl, playing in my dad's darkroom, developing my own photos and watching the magic wrought by cropping and dodging as pictures materialized on the plain photo paper.  I miss the sharp smell of the chemicals, and the magic that took place!  Dad was an avid photographer–extensive still and 16mm film while he was in the CIC during WWII, then a broad range of photography  throughout the rest of his life.  He passed away twelve years ago, but oh, how he would have loved toying with the advanced digital cameras we have today! 
Well, getting back to the theme of this blog, yesterday was Tucker's big day. 🙂  Tucker Pine Bar is my big sorrel  AQHA gelding, and I've got him up for sale on Craig's List as of last night.
Back during the film age,  I might have grudgingly shot a roll of 36 exposures at the most, and thought that was over the top.  Yesterday, I shot over 150!  What a fun day–outside in the warm, bright sunshine in Mid-November (unusual for the  Midwest this time of year), spending time with the horses.
The photos were shot with a Canon f/4L IS  70-200mm lens on a 7D.  In the first photo, shot at 200mm, it makes it look like the neighbor's house is much closer to our pasture than it really is.  I wish the blog would support  18 MP photos, but to be loaded here I had to reduce them by 75%.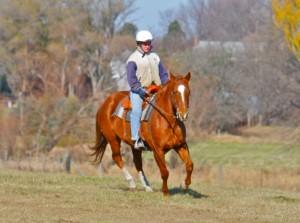 At any rate, I thought I would share some photos of Tucker.
Do you enjoy taking photos? Do you a favorite camera, or some memorable photo-taking experiences you'd like to share?
(Note: if you are reading this on Facebook or on Goodreads, this post originated from the All Creatures Great and Small Blog, at www.roxannerustand.com.  Come on over and say howdy!