Margaret Daley's His Holiday Family
Margaret says….
When I decided to write a series about a town that goes through a hurricane, I wanted to give tribute to all the people who have gone through a disaster and rebuilt their lives. This series was written for the heroes and heroines who help others in a time of disaster.
Blurb for His Holiday Family by Margaret Daley: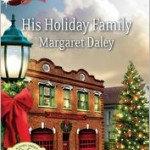 When Hurricane Naomi tears through a small Mississippi town, a daring rescue unites two heroes. Nurse Kathleen Hart is a single mom racked by guilt over her husband's death. Firefighter Gideon O'Brien—orphaned as a young boy—has lost too many people he cared for. To rise above the storm's devastation, Gideon helps Kathleen and her sons rebuild their home. As Christmas approaches, they discover that even the strongest of storms can't destroy a romance built on the foundation of faith.