The Tale of Bad Bart, the Border Collie
Guest blogger Sharon Dunn
I think God will have prepared everything for our perfect happiness. If it takes my dog being there [in Heaven], I believe he'll be there.      Rev. Billy Graham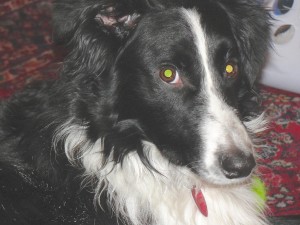 Bad Bart is not a pirate. He is my spastic border collie. If you think Marley of Marley and Me fame was the worst dog ever, stand aside, Bart is in the house. Bart eats socks. Bart eats dish rags. Bart eats my kids' homework (yes, they actually used that as an excuse to their teacher and weren't telling a lie)
Bart waits until we are relaxing for the evening to start doing the above activities. I know he does it for attention. Here's the baddest part of Bad Bart. Bart barks at baby carriage and small children. They freak him out.
Here's the saddest part of the The Tale of Bad Bart. Even with all of that, I love Bart. I've never been around an animal who was so devoted and so tuned in to each member of the family. He laid beside my husband when he was recovering from chemo treatments. He makes my son who has Asperger's feel super special with the way he greets him and loves him without judgment and lots of doggie kisses. He is the best company when I am writing. He lies on my feet (not at my feet) when I'm working at my desk.
Bart was a shelter dog. All we know about him is that he and his mom were found abandoned in a rental house. In
his defense, not all Bart's behavior is entirely Bart's fault. When we adopted him, the man who helped us with the adoption said that with border collies, it's not just about  keeping them busy physically. Border collies are so smart they need a lot of mental stimulationas well.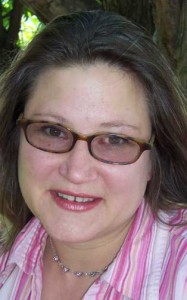 I think a lot of the sock eating and homework consumption has to do with that. It's not easy to stay mentally ahead of a border collie. They are so smart. Because he was bred to herd animals, Bart anticipates our movement. And I've never had a dog that could move backwards like he does.
Bart is not your standard issue lay in the corner until called kind of dog. He's interested in what everyone in the house is doing and he actually runs patrols through the house checking on everyone and peering out each window to make sure no one is approaching the house. Gotta love that kind of dedication. Bart has added so much to my life. I can't imagine it  without him.
Guard Duty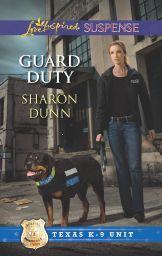 Sharon Dunn
Love Inspired Suspense
March, 2013
Rookie Police officer Valerie Salgado can identify a murderer who is probably a member of the crime syndicate that has plagued the town of Sagebrush Texas for months. With a death threat hanging over her head, she has new responsibilities caring for her niece and proving herself as a member of the K-9 police unit. When FBI agent Trevor Lewis comes into town looking for a fugitive, he offers her protection in exchange for her help.  A troubled childhood has left more walls around Trevor's heart than a maximum security prison.
Guard Duty is the third book in the Texas K-9 Unit series from Love Inspired Suspense.    If you've missed the first two books in the series, you can find them at eharlequin.com,  barnesandnoble.com,  christianbook.com, and Amazon.  And don't forget–the final three in the series will be coming out the first week of April, May and June–available in your local book stores and online!