Howdy–from the March Madness Blog Hop!
Howdy!
Today is the start of the March Madness Blog Hop involving 36 authors from many genres; and across the spectrum from inspirational/sweeter type romantic fiction (me!) to hotter books, and every step between. There are wonderful prizes in the overall drawing.  Read on, to see how to enter the raffle, and you'll also find that there's an extra prize at this blog, just from me!
If this is your first time at the All Creatures Great And Small blog, here's a very warm welcome to you from the very snowy upper Midwest!
We've had one lovely snowfall after another, and as I write this in my cozy office, I'm looking out over our ten acres of pastures and hayfield, at snowflakes drifting down and adding to the five inches we got last night.
Though we now live in Iowa, both my husband and I grew up in Minnesota, and I love the snow. We find it sort of amusing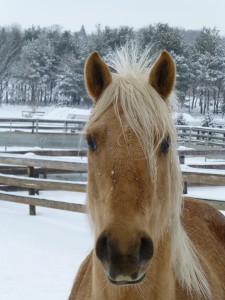 though, when the local forecasters give us their predictions about "major winter storms."  I mean, really!?  Five inches is a major storm?  LOL!
When I went out to do my horse chores this morning, I took these photographs. I like the one with the three of them, because it's so typical.  The horses at the left are outside, the one at the right is inside, and all three want to be where they are not!
As you can see from this blog, I love country life and I definitely love animals. In addition to my own posts, I often feature posts by other authors who are animal lovers, too.
I've had over thirty books published thus far– all romantic suspense or mystery, with the exception of three that were romance.  I started with Harlequin Superromance, with an Everlasting and a trade paperback for public radio along the way, and now I've been writing inspirational romantic suspense for a while.
Almost all of my titles have been light romantic suspense, strong on a warm community of characters, often with inter-generational elements, and often set in small towns, ranches or out west.   A lot of my books have included animals with considerable personality. I had great fun using one of my childhood horses in Christmas at Shadow Creek, because Cherokee was a horse who took himself on a lot of adventures when he managed to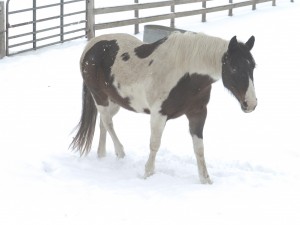 escape our pasture!
I hope you'll come back again, and also join me on Facebook at www.facebook.com/roxanne.rustand    At Facebook, I'm always teetering at the edge of 5,000 friends and thus can't add friends unless someone drops off,  but email me (through this website) or message me (through FB) to let me know, and I will watch out for your friend request!  You can also just subscribe, or click "follow" at the top of the profile.
To enter the March Madness Blog Hop raffle for lots of great prizes, go to:
Rafflecopter.  http://www.rafflecopter.com/rafl/display/3950b52/
To find all of the other authors participating in the blog hop and to have more chances to win prizes at some of the individual sites, go to:  http://www.linkytools.com/basic_linky_include.aspx?id=186826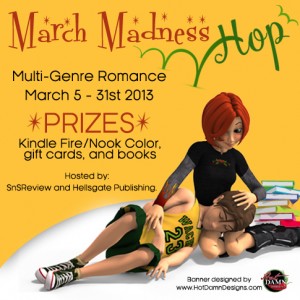 There are all sorts of great prizes, but I'm offering an additional opportunity: if you leave a comment here, I'll include you in a drawing for a  $25.00 Barnes &Noble gift card.
Best wishes!
Roxanne Rustand