Taffy to the rescue! Guest blogger Carole Browne
by guest blogger  Carole Brown
Does God Care About Us and Animals? Of course, he does! Why else would he mention in the New Testament about seeing even a lowly sparrow dying? Why else did he create an emotion (called love!) in our hearts for the animals in our lives? Why else would he create certain animals to react with loyalty and love in their little hearts toward humans?
And, so, that's why I believe God cared about Shyenne, our horse, when her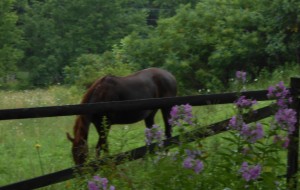 companion sister (Red) died. She mourned–yes, she did, standing over Red's  grave, hours at a time. Until the day . . .
God sent Taffy.
She's a mixed breed, but she looks a little like a Jack Russell and acts like one even more. We were all gone that
day busy with things like humans often are. But when my husband and oldest son returned home, they saw the strangest sight: Big, beautiful Shyenne with a small tan and white dog sitting close by. What do you think they talked about?
Whatever it was, whatever Taffy said or showed to Shyenne, it did the trick. Could have been, Taffy said, "You've got a (new) friend." or "I'll be a friend that sticks closer than a brother."
From that day on, Shyenne was over her mourning.
And sweet, wiry little Taffy was in our lives to stay. My husband called her Squirt. I insisted her name was Taffy.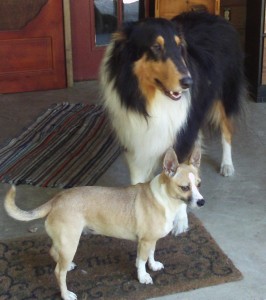 With persistence, the name I chose stuck.  How has this little creature affected our world? Let me list the ways:
She's loyal and loving. Her humans are her responsibility to make sure their love for her is always present
She keeps all the other animals on our mini farm in line (or at least she tries!)
She's company for us when either one or the other is alone.
She's a great companion to our 21 month-old grandson. Teaching him to love and respect books is one great desire I have. When he enters the house and runs for a book, says "sit" and pats his leg for Taffy to join us, then hugs her neck and says "see" while pointing at the pictures–that's a real delight for me. Not saying how Taffy feels about all that. LOL!
She's obedient. When called she comes running with all the speed she can muster.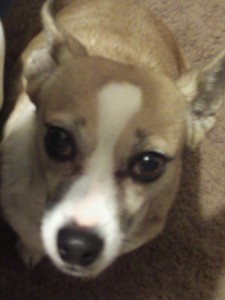 I'm thinking, God was considering more than just Shyenne when he sent Taffy into our lives. Could be he knew we needed a little more loving from another created being.
I like to think so.
Besides being a member and active participant of many writing groups, Carole Brown enjoys mentoring beginning writers. She loves to weave suspense and tough topics into her books, along with a touch of romance and whimsy, and is always on the lookout for outstanding titles and catchy ideas. She and her husband reside in SE Ohio but have ministered and counseled nationally and internationally. Together, they enjoy their grandsons, traveling, gardening, good food, the simple life, and did she mention their grandsons?
Connect with Carole here:
Personal blog: http://sunnebnkwrtr.blogspot.com/
Facebook: https://www.facebook.com/CaroleBrown.author
And here is Carole's new book: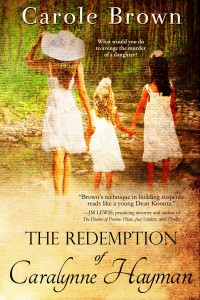 How far would YOU go to avenge a daughter's cruel death? Cara is considered rebellious and inappropriate to befriend. Dayne is the apple of Elder Simmons' eye—until he takes a stand against their teachings. Can his prayers and love reach Cara and show her the way to redemption? Will Cara realize God's love and forgiveness before she goes too far? 
The Redemption of Caralynne Hayman is a novel of hope shining through the darkness with strong elements of suspense and romance. This novel was a semifinalist in the Genesis contest and is receiving raving reviews! Release date was October 21, 2013 from the Lighthouse Publishing of the Carolinas.
Here is an Amazon link for Carole's new book!   The Redemption of Caralynne Hayman (Christian Suspense) (Women's Fiction)