Sunrise glory….and sundowner syndrome…in dogs?
I love living on a hill in the country, where we have a beautiful view of the sky from dawn to dusk.  This morning, while heading out to the mailbox for the newspaper, I was momentarily awestruck by the sunrise–then raced back into the house for my camera. The photo is of the farm down the road–Forest Grove Farm–and one of their horses.  Sunrise, sunset–the glories of the heavens sometimes leave me speechless with wonder. Over the past four months I've been seeing a lot more sunrises than I ever have before, thanks to Harold.
Harold is one of our border collies.  At  thirteen, he is sometimes incontinent at night, and he yelps all night long. When  we check on him, he's relaxed and laying on his dog bed, yet he's looking at the wall, yelping.  On, and on, and on.
His labwork is fine, he shows no sign of pain anywhere, his latest xrays showed no tumors.  The vet says his endless, senseless yelping is likely a symptom of senile dementia. Would this be like sundowner syndrome in people?  Whatever it is, it's not easy sleeping at night around here, and by five in the morning, I begin weighing the odds.  If I linger a little longer, hoping for a few more winks of sleep, will I have a floor to clean?
It's not easy, with an  older pet.   But as my husband says, what do you do? Put him down because its more convenient, when he has been such a good, sweet dog all these years?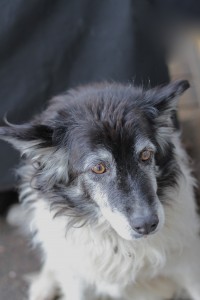 Of course not.  So, we have baby gates all over to keep him off the carpets,  and he is given Harmonease–a doggie psych med to ease his confusion and stress.
What experiences have you had with older pets, and how did you handle them?
Best wishes to everyone for a wonderful New Year!
Roxanne
(if you are reading this on Goodreads or Facebook, come on over to the All Creatures Great and Small Blog at www.roxannerustand.com and say howdy!)