Guide Dogs, and Lisa Mondello's new book "The More I See"
Hello from Lisa Mondello!  Thank you so much for stopping by today and a big thank you to Roxanne for having me.
Using pets as characters in books is such a cool idea.  I do it all the time simply because your hero and heroine will act different around a pet, say things to them, confide in them, or simply act goofy.  Pets can bring comic relief to a story that has a lot of emotion.  Or they can tug at the heartstrings.
I have use pets in my stories quiet a bit.  In ALL I WANT FOR CHRISTMAS IS YOU, I had a very spirited Saint Bernard that caused all kinds of problems for the hero.  In THE MARRIAGE CONTRACT, I had an injured stray dog that the hero was compelled to help.  And of course, in my upcoming TEXAS HEARTS series, I have lots of horses and one particular dog that tugged at MY heart.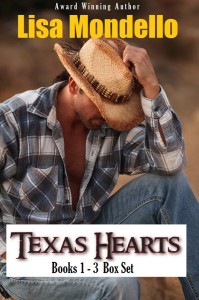 In THE MORE I SEE, the hero, Cody Gentry, becomes blind after a freak accident.  The proud cutting horse training can no longer run his ranch or work with horses.  He's been reduced to counting steps from the house to a chair on the patio.  Enter the Allyssandra Orchid McElhannon, the Plain Jane woman with a love for her guide dogs and Cody's world turns upside down.
The guide dog I used in THE MORE I SEE, which will soon be part of a Box Set for the Texas Heart series as well as available as a standalone book, was based on a real guide dog one of my dear friends had.  My friend Diane was blind for about 8 years.  She was determined not to sit in a chair in her house and immediately started working with this beautiful and soulful guide dog named Otis.  I've always been amazed by the control and the loyalty of a service animal.  They're such special creatures!
Here's a blurb about THE MORE I SEE:
As a top-notch cutting horse trainer, Cody Gentry was riding high until he lost his eyesight after a freak chemical accident.Unable to see the hand in front of his face,never mind the horse or cattle he trained, he knows his life is over and slips deep into depression.His whole future hinges on the success of an eye surgery that could give him his old life back.
When guide dog trainer, Lyssa McElhannon, arrives on his ranch like Florence Nightingale coming to save him, he wants no part of her or her guide dog. But something about Lyssa's musical laugh coupled with her tenacity digs under his skin and won't let go. Having been blind most of her life, Lyssa understands the paralyzing fear Cody feels after losing his vision.But she refuses to let the stubborn cowboy waste his life away sitting in a chair when she knows firsthand that a good guide dog can change his world. She just needs one month to prove it to him.
Falling in love with Cody was not part of Lyssa's plan, nor was having him open her eyes to see that there was a whole lot of living she'd been missing out on.
Please be on the lookout for my TEXAS HEARTS series Box Set and my FATE WITH A HELPING HAND Box Set, both of which will be published in the coming weeks.   The Texas Hearts series is available in hardcover right now.  By the end of the month they will be available as ebooks for Kindle and Nook.  The Fate with a Helping Hand series is available right now.   You can find these books by searching the author's name at Barnesandnoble.com and at  Amazon, or at:
http://www.amazon.com/s/ref=sr_tc_2_0?rh=i%3Astripbooks%2Ck%3ALisa+Mondello&keywords=Lisa+Mondello&ie=UTF8&qid=1326205483&sr=8-2-ent&field-contributor_id=B001KHOG3Y
http://www.barnesandnoble.com/s?keyword=lisa+mondello&store=allproducts&page=%2Findex.asp&prod=univ&pos=&box=
Lisa Mondello
The Knight and Maggie's Baby Book 3 (Fate with a Helping Hand) 9/11
The Marriage Contract Book 2 (Fate with a Helping Hand) 9/11
All I Want for Christmas is You Book 1 (Fate with a Helping Hand) 9/11 99 Cent Download! http://www.lisamondello.blogspot.com