Happy holidays!  I hope you were with family or friends for Christmas, and wish for you a safe and enjoyable New Year's weekend.
I know many of you are in warmer climates, and I've always wondered what the holidays would be like with balmy warm weather and bright sunshine, year after year!  My husband and I live out in the country in the Upper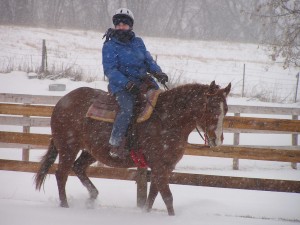 Midwest,  on an acreage with our horses, dogs and cats,  and we've usually got snow on the ground by Thanksgiving–sometimes even by Halloween.  I adore heavy snowfalls and sitting by the fire with a cup of cocoa and a good novel while a heavy blanket of white builds up on the trees outside.  The silence of it–the incredible beauty–just takes my breath away.  Of course, when it's time to go out to do my horse chores or help clear the driveway and I'm bundled up like a version of the Stay Puff Marshmallow Man (anyone remember the movie Ghost Busters?) then maybe it isn't quite as fun!  This year, though, we had a bare Christmas and there's still no snow in sight.
What are your favorite Christmas memories?  I would so love to hear them!  I guess my own favorite, hands down, was the Christmas Eve when our son Brian was born unexpectedly early.  His brother wasn't quite as excited, though, at finding Christmas and Santa were delayed because of a baby!   Do any of you have Christmas birthdays?  Christmas Eve can be tough, because you can never have a big party on the actual date, and with the hectic schedule of that day– with a big late afternoon dinner to prepare, a crowd of relatives coming and going, evening church and then opening Christmas gifts afterwards–making the day truly special for the birthday child isn't easy.  We often celebrated his birthday a week early when he was younger, but still….
Not long ago, I told Brian that I was sorry that he didn't have a special day all his own, but he said "I have the best birthday I could ever have–because I'll always be with family to celebrate, and that means more than anything."
I feel so blessed, to have my family around me throughout this holiday season, and because another year has passed with all of us in good health.  And I feel so blessed to have had another year of doing the things I love most–enjoying the beautiful countryside on our horses, writing my books, pursuing my dreams.  During the past thirteen months I had seven books out.  The last one, Duty to Protect, was released a few weeks ago.  I woner what 2012 will bring?
My wish for all of you is that your holidays are happy and that you have a wonderful, successful and joyous New Year.
Peace to you all,
Roxanne Rustand
www.roxannerustand.om (The All Creatures Great and Small Blog)