Scotland to New Orleans, but we still love Iowa!
How has your summer been?  I just don't know where spring and summer have gone.  In the blink of an eye, we're nearly at the end of July!  Travel and lots of family events have certainly filled my days.  I've been a bit lax here at the blog because of all these things, but I'll now be better!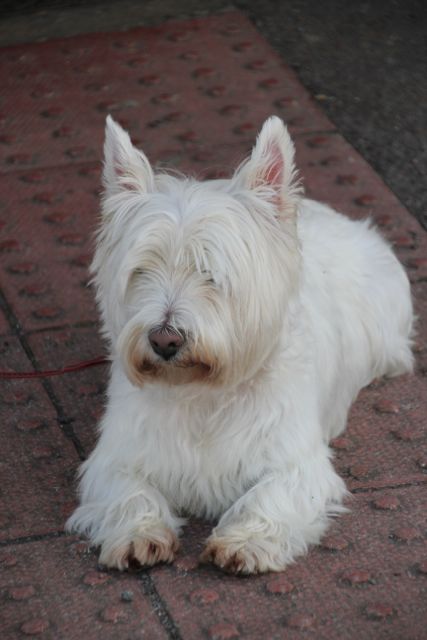 We were in the Highlands of Scotland for two weeks in mid-May and I loved every moment.  i want to go back right now!
I'm such an animal lover, and everywhere one looks there are people and their dogs out on "walkies"–and not so coincidentally, lots of West Highland Terriers.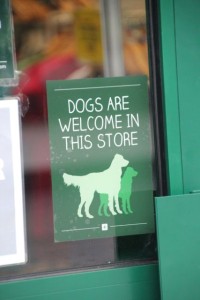 I loved seeing dogs on leashes in bookstores, coffeeshops and pubs, but it made me long to have our own dogs with us to enjoy that freedom.
And I love this sign–for visitors who don't know English, the message is quite clear!  🙂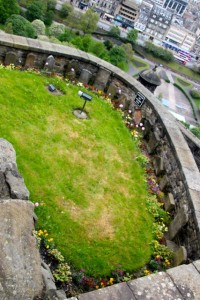 The love for dogs in Britian is clearly shown by the dog cemetery at Edinburgh Castle, which was placed on a beautiful promontory overlooking the city and goes back hundreds of years.
This year's trip to Scotland, and last year's trip to Ireland and England, have me thinking.  I'm going to start working on an anthology of light romantic stories set in each of these countries.
The first one will be set in Scotland.  I can't wait to start writing it!  🙂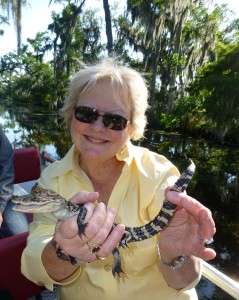 In May, daughter Emily and I were in the Gulf area just before the Romantic In Times Convention in New Orleans. We ran into creatures of a different kind on a swamp boat tour!
She and her husband have just closed on their first house in Pass Christian (yesterday!) but I think they were almost more excited about finally being able to adopt a dog, which they will be getting today.  🙂   After a long time in student housing and then two months in an apartment in Long Beach, it has been a long wait.  🙂
I hope Emily will guest blog here sometime soon about their new doberman:  Zane was in training as a Seeing Eye dog, but flunked as he was a bit too clumsy.  He knows twenty-five commands and sounds like an amazing dog.  It's  all I can do to just to get our crazy-pants rescue Golden to heel—but we've started obedience classes, and I have high hopes!
And now…we are home.  I love summer in the beautiful Iowa countryside.  I enjoy traveling, but there's nothing like being home in this lush, peaceful place–enjoying the horses, dogs, family and good friends…and the satisfaction of simple things, like getting our second cutting hay stored in the barn last weekend.
We went to a neighborhood potluck up at the neighbor's farm afterward, and it was such a wonderful evening.
I'd love to hear about the highlights of your summer!