Amanda Cabot's Unexpected Encounter–Big Horns in the Rockies!
by guest blogger Amanda Cabot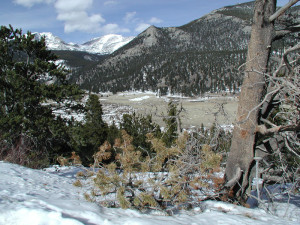 The first time I heard of Rocky Mountain National Park was when a co-worker in Philadelphia described it as the crown jewel of the national park system.  A couple years later my husband and I visited it and discovered that, other than the reality of altitude sickness which affected both us and our car, it was indeed a jewel of a park.  Now, many years later, I'm fortunate enough to live only two hours away, which means that I can – and do – visit it a couple times a year.
There's so much to love about the park.  The lakes, waterfalls, glaciers, tundra flowers, and of course those magnificent snow-capped mountains.  But what attracts me just as much as the spectacular scenery is the wildlife.
On our first visit we were hiking when a marmot decided to follow us down the path.  I'd never seen anything like him, and I have to admit that those large yellow teeth were more than a little intimidating.  You see, I wasn't certain he was a vegetarian.  In retrospect, I suspect he was attracted by the chocolate chip cookies we were nibbling and that he thought if he came close enough, we might relent and feed him one.  Sorry, big fella, but we knew better than to do that.
Although we saw a number of small mammals on that first visit, we had no sightings of elk or the park's iconic Rocky Mountain Big Horn Sheep.  Fortunately, that changed after we moved to Cheyenne and were able to visit more often.  We discovered that elk were common and that, in fact, herds of them wandered through the streets of nearby Estes Park, causing traffic jams that probably annoyed the residents but delighted visitors, including us.
Still, there were no big horn sheep.  And then, one afternoon when we were leaving the park, we saw a number of cars parked along the side of the highway with everyone staring at the nearby cliff.  It was a sure sign of a wildlife sighting and, yes, on top of one outcropping was a female big horn sheep.  Success!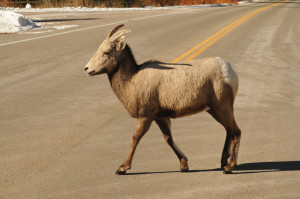 After that, each time we drove that highway, we'd look for the sheep.  But they proved to be elusive, and I was beginning to think it would be a one-time sighting.  Then, one January morning when we were heading for the park to do some snowshoeing, we had what could only be described as a big horn sheep bonanza.  We'd just come out of the visitor's center and there they were – a whole herd crossing the road.
Apparently unfazed by our car, they strolled down the middle of the road, barely glancing at us.
All except for this one, who gave us a look that practically said, "I'm king of the road."
I agreed.
Here is a link for ordering Amanda's new novella!   Sincerely Yours: A Novella Collection
Sincerely Yours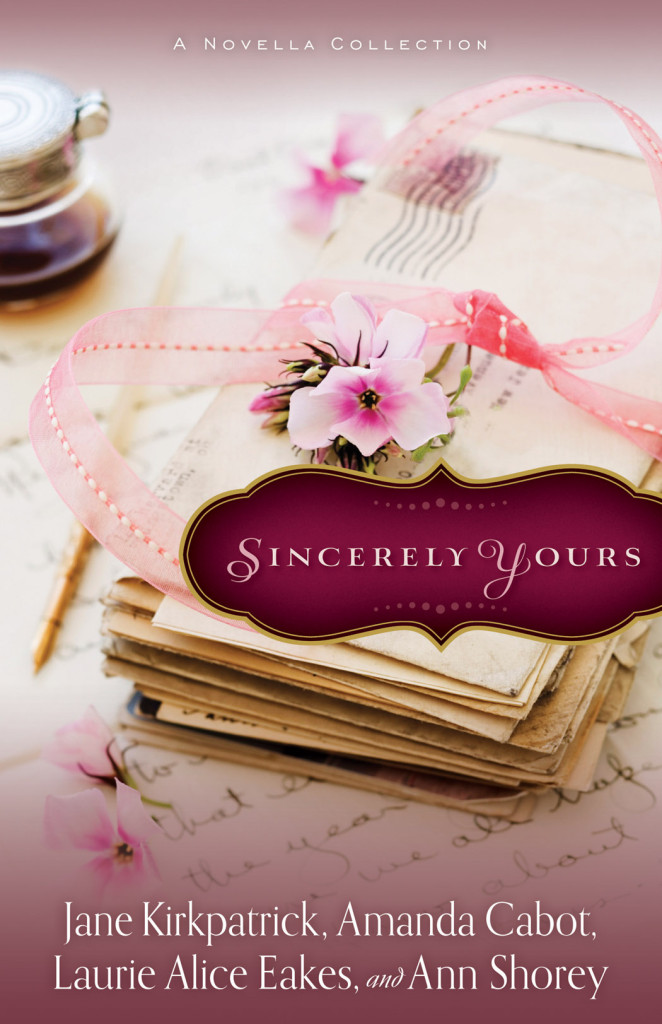 A Novella Collection
Amanda Cabot
Available now!
Four unexpected letters. Four intrepid women. Four lives changed forever.
Spanning a century and a continent, these romantic novellas will lead you on a journey through the landscape of love. Four young women find their lives altered after each receives a letter that sets her on a new path. From a Hudson River steamboat to a lush drawing room, from a carousel carver's workshop to a remote hospital, you'll be swept into the lives of women who are making their way in the world and finding love where they least expect it.
Moonlight Promise by Laurie Alice Eakes
Camilla Renfrew is a highborn English lady fleeing false accusations when she runs smack into love on a steamboat bound for the new Erie Canal. But can this unexpected attraction survive the treacherous journey?
Lessons in Love by Ann Shorey
Marigold Montgomery Bentley writes marriage advice for Kipler's Home Weekly even though she is single. Everyone assumes from the initials that "M. M." is a man. When the editor asks to meet Mr. Bentley, can Merrie come up with a ruse to keep her writing job?
One Little Word by Amanda Cabot
Lorraine Caldwell will lose her family fortune to a reckless cousin if she doesn't marry quickly. When she learns her long lost brother is alive, she hopes she's found the answer to her problems. What she finds instead is a mysterious carousel carver who turns her life upside down.
A Saving Grace by Jane Kirkpatrick
Grace Hathaway must rescue a dear friend from a remote and notorious clinic that promises healing but delivers only heartache. In a place laced with deceit, where lives hang in the balance, whom can she trust to help her?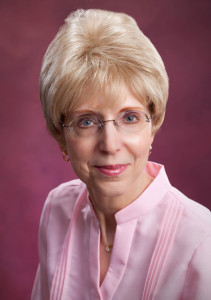 About Amanda Cabot:
From the age of seven, Amanda Cabot dreamed of becoming a published author, but it was only when she set herself the goal of selling a book by her thirtieth birthday that the dream came true.  A former director of Information Technology, Amanda has written everything from technical books and articles for IT professionals to mysteries for teenagers and romances for all ages.  She's delighted to now be a fulltime writer of Christian historical romances.  Her Texas Dreams trilogy received critical acclaim; Christmas Roses was a CBA bestseller; and a number of her books have been finalists for national awards, including ACFW's Carol award.
www.amandacabot.com
http://amandajoycabot.blogspot.com
http://www.facebook.com/pages/Amanda-Cabot/110238182354449?v=wall