Rudy and the Golden Beginnings Golden Retriever Rescue
guest blogger Mary Hamilton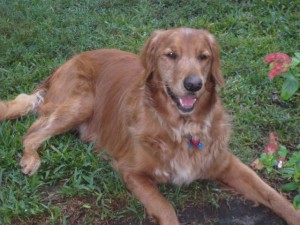 Rudy came to us from Golden Beginnings Golden Retriever Rescue in Houston almost five years ago. We guessed him to be about eight years old, but the only thing we really knew was that he was found as a stray. I'd never known a dog that didn't become ecstatic at the word "walk," but on a good day, Rudy would make it to the end of our driveway and stop. After six months, one obedience class and two trainers, I finally managed to walk him around the block. Both the trainers said he exhibited behaviors consistent with past abuse. I did my best to reassure him those days were over.
We looked for a Golden specifically because our previous dog had lacked an affectionate nature, preferring to be where she could see us but never in the middle of our activities. She'd get up and walk away whenever my kids wanted to pet her. So, I promised my kids our next dog would thrive on attention.
A Golden Retriever seemed like a perfect fit. But it never occurred to me that the kids were nearly grown. Two were
out of the nest, the youngest was busy with high school activities. I'm the only one left to provide the attention. We jokingly say Rudy suffers from Attention Deficit Disorder, not because he can't pay attention but he can't get enough. He'd bump my elbow with his nose, sending my pen skipping across the page, or my drink splashing across the table. If I made the mistake of sitting on the floor, all 80 lbs. of him would collapse onto my lap. Just as I was getting used to the empty nest feeling—even kind of enjoying it—suddenly I had a toddler again. It wasn't enough for Rudy to be with me; he wanted to be touching me. Whether he leaned against my leg, laid across my feet, warmed my lap, or rested his paw on my knee, he needed to be close enough to touch me. More than once, I ate a meal one-handed because he insisted I hold his paw with my other hand.
This sweet, beautiful dog shadowed my every move and it irritated me to no end. But maybe God was teaching me something. Too often, I'm content to sit on the sidelines and watch. What if I insisted on being part of the action, like Rudy? What if I continually stayed close enough to touch Him? What if every time life threw me a stick, I eagerly carried it to Him?  I could push this dog away in annoyance, or I could learn from him, watching for a chance to sit at the Lord's feet, to relax in His lap, to put my hand in His. Hmm. Maybe this old dog could teach me some new tricks, if I pay him some attention.
Hear No Evil,
Book 1 in the Rustic Knoll Bible Camp series 

Mary Hamilton
Brady McCaul's mother drops him off for a week of summer camp and tells him he can't come home. She doesn't want him living with her anymore. While Brady tries to figure out what he did wrong, he becomes fast friends with Steven, a blind but capable cabin mate and Steven's spunky friend, Claire. But Brady also has to deal with the camp bully. Between his dad's abandonment six years ago and now Mom's rejection, Brady's wounds are so deep only God can heal them…and he's not convinced that even God cares about him.
Read the first chapter here: http://www.maryhamiltonbooks.com/hear-no-evil-sample-chapter/
Here's an Amazon link for Mary's book!  Hear No Evil (Rustic Knoll Bible Camp)

Barnes & Noble link: http://tinyurl.com/kw2xmtr
About the author: Mary L. Hamilton grew up at a youth camp in southern Wisconsin, much like the setting for her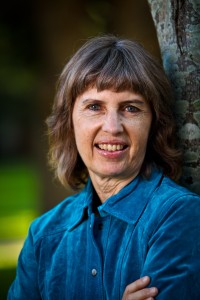 Rustic Knoll Bible Camp series. Hear No Evil was a 2012 semi-finalist in ACFW's Genesis contest, and has won awards in the Blue Ridge Mountain Christian Writers Conference and the Cat 5 contest.
Besides writing, Mary loves the outdoors and nature, as well as opening her home to youth Bible studies, pancake suppers and breakfast with her special recipe waffles. She and her husband live near Houston, TX, within range of their three grown children.
Connect with Mary:
Website/blog: http://www.maryhamiltonbooks.com
Facebook: http://www.facebook.com/maryhamiltonbooks
Pinterest: http://www.pinterest.com/mhamiltonbooks
Twitter:@mhamilton122