Faithfulness, and a border collie named Lady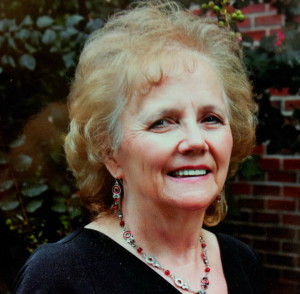 Guest blogger Teresa Pollard
If there is a special place in heaven for amazing animals, I'm quite sure our border collie Lady is there.  To me, she "personified" the definition of faithfulness.  For ten years, we lived way back in the woods up on top of a mountain, so when Kristina and Kevin, my older two children, tell people they had to walk a mile to and from school every day, they are telling the absolute truth.  My youngest daughter, Kara, however, never had to make that walk.  She was very tiny, and we nicknamed her "Virgin Toes" because Lady carried her most everywhere she went.  Every morning, Lady would appear at the back door at 7:15 a.m. to walk with the children down to the bus stop with Kara on her back.  At 3:30 in the afternoon, she would be waiting at the bus stop ready for "pony duty" to make the trek back up the mountain.
But the kids weren't the only ones Lady helped.  One day, my husband Wade was up at the top of the mountain working on the spring when he heard the rattle of a rattlesnake behind him.  Fortunately, Lady had followed him up and heard it too.  She leaped into the air and caught that snake in her teeth mid-air just as it was lunging toward Wade   He's absolutely certain, Lady saved his life that day.   I never doubted it either.  I never had to worry about my children's safety even though we lived in such a remote place.  I always knew if there was a problem, Lady was there.
Fortunately for Lady's back, we moved off the mountain when Kara was about seven.  We had intended to give Lady to our closest neighbor since we knew she'd have to be on a leash in the city where we were going, but Lady would have none of it.  She jumped up into the furniture truck and wouldn't budge from it.  We were her family and she wasn't about to let us go without her.  She stayed with us until she died at about sixteen.  She didn't even seem to mind the leash; maybe because by that time she was too old to run much anyway.  She was happy as long as she could be right there to say goodbye and hello to the kids when that yellow bus arrived.  When I'm gone, I hope Jesus will say of me that I was faithful like Lady was faithful.
Here's an Amazon link (for both print and Kindle) for Teresa's new book: Tokens of Promise
Tokens of Promise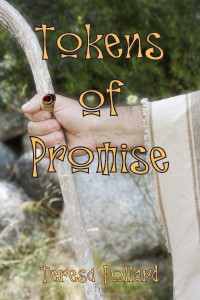 HopeSprings Books
Teresa Pollard
"Beware, Prince of Hebron, her witching ways are strong."  Ben Qara's evil words still rang in his ears.  Judah is sure he was bewitched by the beautiful Tamar.  She is all he can think about.  But no, it must not be.  He will not break his vow to Yah.  He already has a wife, and he will have only one.  Tamar must marry Er.
Rescued from disgrace by the handsome Judah, Tamar is already in love with the kind stranger.  She eagerly followed Emi's advice on how to win him.  It almost worked.  He'd promised.  If only his servant hadn't come at that moment, she'd be his wife now instead of going home with him to be his daughter-in-law.   Why had her father agreed to this?  Surely he could see her destiny was with Judah?
"What are you talking about, woman?" Er demanded.  "Tamar is no harlot.  She's the daughter of a Man of God, and Father bought her from him for me."
"After he found her naked in the street and bought her back from her rightful husband," Ruah said spitefully.  Her family was gone from the town, but your father stayed in her home with her through the night.  How many times do you suppose he could have come in to her before my father arrived with the dawn?  You don't believe me?  Ask the messenger who took the supplies back to Chezib.  It seems the whole town is talking about it."
Er's anger seethed, and he vowed revenge.  His father must die.  But not before he would see what he would do to the beautiful "bride" he had intended to foist off on him.
Teresa Pollard is from Richmond, Virginia, and was saved at a young age.  She has a Masters degree in English and Creative Writing from Hollins College, and has served as a Sunday School teacher and children's worker for most of the last forty years.  Married for forty years, she was devastated by divorce and the death of her youngest daughter, but God has blessed her with a new home and another grandson, and she now resides in Dacula, Georgia.  Her website is TeresaPollardWrites.com