Melinda Curtis…and her new writing partner, with paws
Guest blogger Melinda Curtis
You'd think that as a writer when all your children leave for college, you'd revel in the abundance of spare time on your hands.  No more after-school activities.  No more team dinners to host.  No more sleepovers where no one sleeps.  It could be all writing, all the time.  I was free, except for my husband, of course.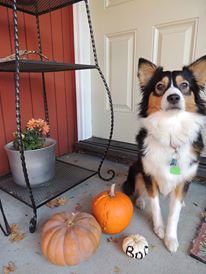 I wrote a lot in 2013 – 5 books and a novella.  I didn't do much else.  And then my son's dog won my heart over.  Bonny is a mini Australian Shepherd.  She learned commands quicker than any dog I'd seen before, which also meant she easily outsmarted everyone who didn't pay attention to her (yep, she's young).  She cuddled with cats.  She created a route in whatever house she was in – checking up on every person inside.
Bonny reminded me of the Australian Shepherd mix I had growing up on a sheep ranch.  Tippy was the extra pair of hands my mom didn't have with three kids on 50 acres.He herded kids as easily as he did sheep.
I was about to write a book and decided I had to feature an Australian Shepherd –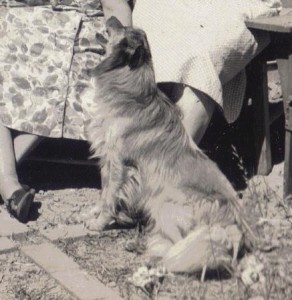 enter Abby, a licensed therapy dog, who burst onto the page with the smarts and enthusiasm of the breed.
I finished the book and moved on to writing the next one.  But I was restless and tired.
When my daughter came home for a visit before starting the fall quarter, she pointed out that I might be writing too much and might be using writing to fill the gaps left by my kids leaving.  And then we saw a picture on Facebook of a puppy in need of a home.  Writers under deadline have been known to do crazy things.  I brought home a 3-pound, 8-week old puppy.
Now Tally is 6 months old.  She naps beneath my desk during the day and reminds me I've got to get up frequently to enjoy the out of doors.  We work with a dog trainer since I've known small dogs to get nervous and yappy (who wants to come to Grandma's house if she has a cranky little dog?).  "Trainer Tom" finds Tally very amusing.  He used to train dogs for the military.  To him, at seven pounds, she's practically a cat, but they've grown to love each other.  I didn't plan on becoming a pet parent again at this point in my life, but like most pet owners, I can barely remember what life was like without her.
Dogs were bred to serve, but today most are family.  I'd love to hear how a pet came into your life for the most unexpected reasons and made a special place in your heart.
Here is an Amazon link for Melinda's new book!
Summer Kisses (A Harmony Valley Novel)
Summer Kisses

A Harmony Valley Novel
by Melinda Curtis
Rebecca MacKenzie's career as a caregiver for the elderly suited her perfectly. Ease their suffering, hop back in the motor home and move on. Caring without commitment. It was ideal for someone trying to outrun her memories…and mistakes. Someone determined to stay detached. Flynn Harris, her new patient's grandson, is weakening her resolve in every way. His scrutiny, his suspicion—and worst of all, his kisses—are more than distracting. They're dangerous. Because she's teetering on the edge of caring. And revealing her secrets. And…staying.
EXCERPT
The truth pressed at Becca's throat.
She swallowed it back.
Took a breath.
Risked looking toward Flynn.
Beneath his black ball cap, his reddish-brown hair glinted in the afternoon sunlight, almost as blinding as the rippling river. His jaw was a hard line. She couldn't look him in the eye.
The truth pressed on her once more.
Becca swallowed it again.
She and the truth had an odd track record. Like the time her father walked out after learning Becca's mother had Stage Four cancer. Or the first time Terry asked her to marry him. He'd walked out when she said she was scared and needed time to think.
"You have two choices if you want the job." Flynn's voice was as unflappable as his jaw line. "You can tell me what you're hiding, or I can do a background check."
Tell him the truth? Which version? No one ever really wanted to hear the unvarnished truth. They wanted a massaged answer tailored to their expectations. Telling Flynn about the lawsuit placed her odds of landing the job near zero.
But it was a definite zero if she walked away without saying anything.
"I want this job." She swallowed and rephrased. "I need this job." To repair her reputation before it fell from somewhere near barely employable to no-way-in-Hades employable.
About the author:  Melinda Curtis writes the Harmony Valley series of sweet romances for the Harlequin Heartwarming line. Brenda Novak says: "Season of Change has found a place on my keeper shelf".  Melinda also writes independently published, hotter romances as Mel Curtis. Jayne Ann Krentz says of Blue Rules: "Sharp, sassy, modern version of a screwball comedy from Hollywood's Golden Age except a lot hotter."  Melinda is married to her college sweetheart, and has three kids in college.  She follows the NFL because one young quarterback is from her hometown, and follows Duke basketball because Mr. Curtis has a man crush on Coach K.  Her latest release, Summer Kisses, comes out February 1st and is part of the Harmony Valley series and set in a small town winery.  You can learn more about her books at www.MelindaCurtis.net. www.MelindaCurtis.net