The Oddballs Out of the West… by author Patricia Knoll / Patricia Forsythe
Why We Love Those Oddballs Out West by guest blogger  Patricia Knoll/Patricia Forsythe
There is something unique about the American West.  It's partly because of the setting – wide open spaces, huge mountain ranges, deserts at the base of a mountain and dense forests on top.  It's partly because of the weather, mostly dry, but be prepared to be pummeled by a sudden cloudburst resulting in a flash flood that can carry you many miles from where you intended to be.  It's partly because of the dry, relentless sunshine and heat that can take a ferocious toll on you if you're outside too long.
But the main thing that's unique about the American West is the people.  Some of the blame for our eccentric westerners can be laid squarely at the feet of wealthy eastern families of the late 1800's who sent their embarrassing sons west as Remittance Men – ones who were paid substantial funds to stay as far away from their refined kinfolk as possible and still be on the same planet.
Along with them came miners looking for gold, silver, or any other metal or stone that would make them a buck, cattlemen looking to buy up cheap land on which to graze their herds, farmers who thought they could turn desert lands into an oasis, merchants with goods to sell, and scoundrels looking for easy money.  They all tumbled together in places like Colorado and Arizona and developed an unusual
culture of acceptance of all comers.
In every small town and big city there are those who go about their daily lives pretty much like people in any other part of the world.  Here in the west, though, we also have people who are set apart by their sheer nuttiness.  Since I grew up in a small mining town in Arizona, I had the opportunity to study these folks up close.  I won't even go into the number of men who walked around town with a Colt 45 strapped to their hip.  Along with boots and cowboy hats, that was practically their daily uniform.  As far as I know, very few of them ever shot themselves in the foot.  You could tell the ones who had, though.  They had an occasional limp.
Although there are probably many eccentric people in big cities in the west, they tend to stand out in small towns and mostly, we're proud of them.  We still accept all comers.  If you want to fill your house with the stuffed heads of elk and bison, come on out west.  There's room for you.  If you want to buy a dual cab truck with an extra long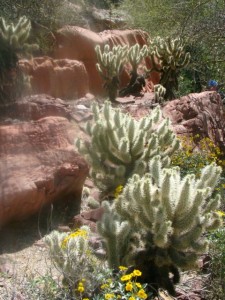 bed and paint it jungle camouflage, more power to you – though I have to wonder how effective the camouflage will be against a backdrop of dry desert and saguaro cactus.  If you want to spend your days walking around town pushing an old-fashioned baby carriage filled with your pampered pooches, we'd love to have you.  Just remember all those wide open spaces.  We've got space for you.
Patricia Knoll lives in Arizona and writes under that name and as Patricia Forsythe.  With either name, she writes romantic comedies, mostly set in the west, including her Lucky Break, Arizona series that features a small town of eccentric people who have a hard time minding their own business.  Here To Stay and Love In The Afternoon are two Lucky Break books with more on the way.  They are available online at Amazon.  You can find Patricia at www.patriciaknoll.com.
Here is an Amazon link for Here to Stay: Here To Stay (Welcome to Lucky Break, Arizona!)
Here is an Amazon link for Love in the Afternoon: Love In The Afternoon (Welcome to Lucky Break, Arizona!)