Operation Tree Cats! by author Kim Watters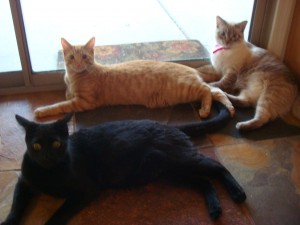 We love our cats. All three of them. Of course what's not to love in three high-strung, crazy, scamper around the house for no reason, bundles of energy that constantly keep us on our toes and up at night?
Especially at Christmas. You see, my son's cat Lego thinks the tree is his personal hang out and all the cats think the the ornaments are their personal play toys. We thought that first year that by putting the ornaments away from the bottom, that the temptation wouldn't be there.
Wrong. All three cats stood on their hind legs to swat at the ornaments near the bottom. A day didn't go by where one of the kids and I wouldn't pick up at least ten ornaments and hang them higher than before.
But what really surprised us was the day we found Lego peeking out from the branches near the top of the tree. Apparently, he liked the view from the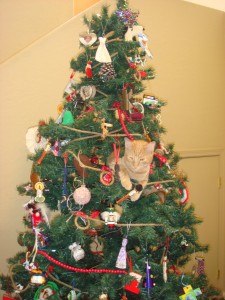 tree better than the view from the top of the cats' perch. Big sigh.
Visions of a downed tree filtered through my mind as to how to get the cat out without losing any more ornaments. Reaching in didn't help because he just clawed his way higher. After the first few attempts I gave up. After all, the Christmas Tree is for everyone in the family, and since the cats are family…..I figured eventually he'd find his way down. He did but not before I snapped this picture. Unfortunately though, his climbing ability means that no ornament is safe on the tree.
We have yet to tie the tree to the wall, although we wonder when the tree will come tumbling over but until Lego's  climbing days are over and the fascination with the dangling ornaments are behind all the cats, all glass and meaningful ornaments shall remain in the box until the next year or the year after that. I still enjoy looking at those ornaments, I just do it in the safety of the box.

Here's a link for Kim's new book!
A Season of Love (Love Inspired)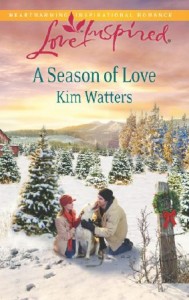 A Season of Love
by Kim Watters
Love Inspired
The Soldier's Gift
Just in time for Christmas, a tall, dark and handsome Scrooge visits Holly Stanwyck's holiday shop, threatening eviction. But once landlord Ethan Pellegrino sees the single mom's plight, the former soldier becomes her protector instead. Suddenly he's helping her with her struggling business and bounding with her troubled son. A wounded veteran come home to heal, Ethan is no stranger to sorrow. But something about the pretty widow fills him with hope. Will Holly be able to let go of her own painful past to see her future by his side?
Kim Watters
Stories From The Heart
www.kimwatters.com