Who's in Charge? The cat, of course! by author D.A. Featherling
by guest blogger D. A. Featherling
I am such a cat person! I've always loved them…more than dogs. Just the way I'm wired. It all started in my childhood when a neighbor had a momma cat (a very pregnant momma cat) wander in and populate them (and us) with a litter of kittens. That litter re-populated, and so on until my poor father finally declared 'enough.'
I was cat-less for a number of years, going to school, working, getting married. But I finally acquired a cat I consider memorable…Pyewacket.  I didn't name her; her former owner (a co-worker)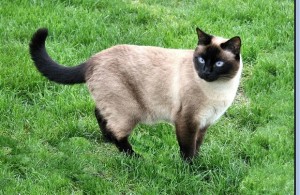 did after the Siamese cat in the "Bell, Book, and Candle" book/movie. When his health issues prevented him from being able to care for his pet, he asked if I'd like to have her. Of course I would.
I should have suspected the cat was special when he told tales of her lurking on top of his car waiting for the neighborhood German shepherd dogs to show up. She would taunt the dogs, then as they passed by the car, leap on their backs and 'ride' them to the nearest tree where she'd jump off and ascend and smile that superior Siamese smile as they clamored around the trunk.
With a small child in the house, I wasn't sure how this would work, but was willing to take a chance. Good thing. Pyewacket turned out to be a wonderful companion (well, as much as any cat is…unless they want to be one) and unique (to us) in a number of ways.
She was a lady, but a very assertive lady. If she wanted to go outdoors, she'd come to wherever I was and look at me and give one 'meow.' That was my cue to go let her outside. Never two "meow's"…only one. If I didn't respond, she'd go to the door and sit beside it and give one more 'meow.' By then, I knew I needed to get with it and get the door open and let her out. When she was ready to return, a scratching heralded her arrival to be let back in. Never a meow…only a scratch.
One of the most incredible things I ever witnessed with Pyewacket occurred when we brought home a bird on a stick we'd gotten my son at the circus. You held one end of the stick and twirled the string-attached bird around and it would make a noise and whirl.
Pyewacket went into hunting mode immediately. She crouched on the floor, watched the bird whirl around (powered by us), then sprang – straight up – and swiped at the bird with her paw.
Since we had ten-foot ceilings, this was a pretty amazing accomplishment. And she repeated it more than once, until she connected with the bird too many times and it broke.
Unfortunately, allergies have kept me from having a cat since, but Pyewacket will live on in my memory as the smartest, best cat ever. At least to this cat lover.
When I wrote my romantic comedy, "Kissing Frogs," the story demanded a
cat. Even though I'd not had any experience with white Persian cats, I used one in the story to amuse and astound readers. "Salem" (because he is such a trial!) steals the book and gives readers one more reason to love a cat.
Here's a link so you can buy Dorothy's charming new book!
Kissing Frogs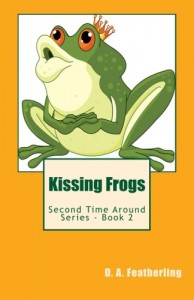 Kissing Frogs, Book 2 in the Second Time Around series released September 18, 2013:
"Until she decides to look for a husband, Em Snider is so-o-o-o in control of her life. But her trip on the internet matchmaking highway soon shows her that she can't control the journey.
Her first encounter is a warning. There are toads out there! A Christian internet matchmaking service provides Em a chance to discover Prince Charming, if she can survive the shocks.Em is soon ready to quit, or will true love still come about in a way she never dreamed, if she'll quit stepping on the brakes and let God be in control?"
Readers can connect with Dorothy on her website:  www.dafeatherling.com or on Facebook to keep up with her and her books. They are all available in Kindle or softcover from Amazon.com (click the link above the book cover.)