Lobsters. They're Not Just Food…by author Katy Lee
I'll be honest. When I think of lobster, my taste buds jump to attention.  In fact, I recently enjoyed a delicious lobster bisque, the cream so thick and filled with big chunks of tasty, sweet meat.  And this big guy in the picture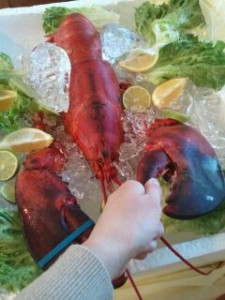 was a prize I won this past summer.  He fed us for days.
Now, I could go on and on with some wonderful recipes you could make with the meat of a lobster, like have you ever tried Lobster Mac and Cheese?  Yummm.
But food is not why I'm here today.  We're supposed to be celebrating God's creatures great and small, so I'll try my hardest to keep my salivating glands from stealing the show and focus on the amazing attributes of the lobster, particularly the North Atlantic crustacean.
Like, for example, did you know a lobster can swim backward going 11 miles per hour?  They curl and uncurl their abdominal muscles to move.  And here I always thought they only poked around the bottom of the sea scourging for their next meal.  They have long bodies with muscular tails and five pairs of legs, both filled with tasty meat.  Oops, there I go again, back to thinking about food.
Okay, so let's talk about their shells then.  Those are inedible.  Lobsters moult to grow, shedding their shells multiple times a year and living up to 60 years of age.  The largest lobster ever caught was in Nova Scotia and weighed 44.4 pounds.  Each time they moult many species change their color.  Most are a blackish red, but you might find a yellow lobster out there or an orange one.  You might even find the beautiful brilliant blue lobster.  That one I might have trouble eating.  Blue is my favorite color.
I have also found another lobster that I can't eat.  This one is made of wool and goes by the cute name of Jacques Crusteau.  Get it? Crusteau?
Crustacean?  Jacques is actually a knitted lobster pattern I found on Ravelry. Isn't he cute?  I love his big eyes, and he is so very soft and cuddly. (Click to find the pattern if you want to make one yourself.) http://www.ravelry.com/patterns/library/jacques-crusteau
The reason I set out to find a lobster pattern was because my latest book release, Warning Signs, has lobster pots on the cover.  A lobsterman plays a role in the mystery that happens on Stepping Stones Island, Maine.  But don't worry, no lobsters were hurt or killed in the making of this story.  Not even in the name of research.
If you would like to win one of these knitted crustaceans leave a comment below with a protected email address, and I will put your name in a random drawing. And here's a little bit about the story:
Click here to buy Katy's new book!! 
Warning Signs (Love Inspired Suspense)
WARNING SIGNS
Love Inspired Suspense
by Katy Lee
GUILTY UNTIL PROVEN INNOCENT…
When a drug-smuggling ring rocks a small coastal town, the DEA sends Agent Owen Matthews to shut it down. A single father with a deaf son, Owen senses that the town's number one suspect—the high school's new principal—doesn't fit the profile. Miriam Hunter hoped to shrug off the stigma of her hearing impairment when she returned to Stepping Stones, Maine. But her recurring nightmares dredge up old memories that could prove her innocence—and uncover the truth behind a decades-old murder. Yet Owen's help may not be enough when someone decides to keep Miriam silenced—permanently.
RT Magazine Review:
4 ½ Stars –   "Miriam is a strong character who is not held back by what others may perceive as a weakness. Acceptance is a key theme as Lee dispels some misconceptions regarding people with hearing impairments."
As an Inspirational Romantic Suspense author, Katy Lee writes higher-purpose stories in high-speed worlds. Through her writing, ministries, and teaching, she dedicates her life to sharing tales of love, from the "greatest love story ever told" to those sweet romantic stories of falling in love. Katy and her husband are born New Englanders and love to travel with their three adventuresome children.  You can connect with Katy anytime at her website, www.KatyLeeBooks.com. There you will find links to Facebook and Twitter.  Please look me up!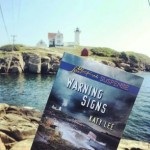 Also on my site you will find details to take part in the Lighthouse Photo Contest.  I hope to receive lighthouses from around the world. So please, take part!