Nanook the Husky, and author Laura Hilton
Guest blogger Laura V. Hilton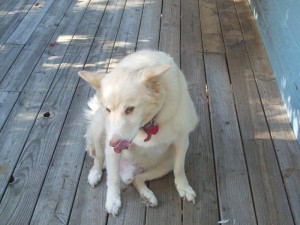 Our first dog was a Siberian Husky. She was a red and white dog, with icy blue eyes.  My son wanted a sled dog team at the time and he had a bunch of wintery/Alaskan names to pick out.  He named her Slush.  Unfortunately, an accident took Slush away too soon, and Michael got a second dog, a  Siberian Husky mix. He also is red and white, but he has brown eyes.  We named him Nanook.
Nookie thinks he's a human.  He wants to be inside with the family – but if he is outside, he wants to lay on the front deck so he can see anyone who comes. He hates black or brown trucks, so he hates the UPS man.  It got to the point that some packages come with labels – "beware of dog."  He's never bitten the UPS men though.  Yet.
He's nine years old, and Michael says he's lazy since  he sleeps all day. Nookie thinks that's part of his job though. As is inspecting the mail and packages, and killing any animal intruders that dare enter our yard. Unfortunately, that means baby bunnies. He's treed the neighbor's cat multiple times, and tangled with a skunk.
I used a Siberian Husky in one of my books, basing him on Nanook.  Awakened Love doesn't have a Siberian Husky in it, but it does have puppies!
Here's a link to buy Laura's newest book release on Amazon:
Awakened Love (Amish Of Webster County V3)
AWAKENED LOVE
Laura Hilton
Whitaker House Publishing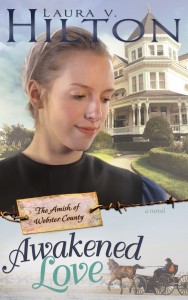 Katie Detweiler grew up Amish, never knowing she was adopted as an infant. Now an adult, her new job as cook at an Amish bed and breakfast doesn't bring about the euphoria she hoped for. Just as she's getting her menu perfected, the Englisch family and severely ill sister she never knew existed enter her life and strain her Amish relationships. Plus, Katie suddenly has two different men vying for her attention—one Amish, one Englisch—and she wonders if one of them could be the man of her dreams. But when her Englisch sister's health worsens, Katie must find a way to balance her heart, her job, and her faith while risking her own life for the sister she never knew.
About the author:
Award winning author, Laura Hilton, her husband, Steve, and their five children make their home in Horseshoe Bend, Arkansas. She is a pastor's wife, a stay-at-home mom and home-schools three of her children. Her two oldest children are homeschool graduates and are in college. Laura is also a breast cancer survivor.
Her publishing credits include three books in the Amish of Seymour series from Whitaker House: Patchwork Dreams, A Harvest of Hearts, and Promised to Another. The Amish of Webster County series, Healing Love. Surrendered Love and Awakened Love,  releasing September 2013. A nonAmish book The Appalachian Ballad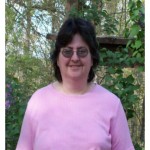 Quilt will release November 2014 from Abingdon Press. She is contracted for another three book Amish series with Whitaker House, The Amish of Jamesport, releasing in April 2014, September 2014, and April 2015.
Laura is a member of American Christian Fiction Writers, and she is a professional book reviewer for the Christian market, with over a thousand book reviews published at various online review sites.