My Canine Writing Assistant by Collette Cameron
Guest blogger:  Collette Cameron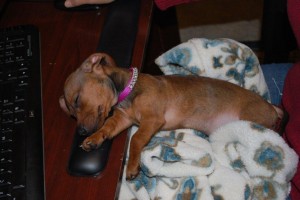 The last time I was a guest on Roxanne's blog, I wrote about Kiki, my dachshund who died last October. I wasn't going to replace her. After all, I still had four dachshunds and a lab, but after a month of watching me cry, my husband and daughter begged me to get a  puppy.
How could I replace Kiki though? She was so devoted, calm, and loving. To make them happy, I half-heartedly began  searching for a doxie pup.
My first choice was to do a rescue, but because I have other doxies and I work very part-time teaching, I was turned down.  Quite by accident, I came across an advertisement for mini doxies. They were located in my hubby's hometown.  So after contacting the seller, my daughter and made the trip. I still wasn't too keen on the idea of getting another dog.
A new puppy?  Lots of work;  just like having a baby in the house. And the housetraining?  Did I really want to go through that again?
The seller had five puppies available.  Two black, two chocolate, and one red. There was one female whose picture had touched me. She'd look terrified and had an odd scar on her forehead.  When I picked her up (a whopping two pounds), she crawled onto my shoulder and snuggled against my neck. I looked at my daughter. She had that look on her face.
The puppy had picked me as dachshunds do.
I named her Ayva after the A-shaped scare on her forehead. The vet said it was most likely caused by a strep infection when she was born.  Ayva was sweet, shy, and timid…for about a day. Then the real puppy emerged. A fearless imp that had no idea she was at the bottom of the doggy ladder. She chewed up nearly 60 things in the first three weeks: shoes, rugs, books, dog toys, purses—anything and everything she got her teeth on.
My hubby affectionately called her an alligator on day. I said, "No, she's the Ayvagator."  The name stuck. We call her Baby Gator as often as we do Ayva.
Hence my journey writing my second novel, The Viscount's Vow commenced with Ayva on my lap. She nibbled the keyboard, licked and chewed on me, but also spent hours asleep on my lap. We bonded so closely those first months that to this day, she has to be within sight of me. Though she's a mini doxie, she's outgrown my lap and prefers sleeping on the back of a overstuffed chair in my writing room.  She reminds me when I need to take a break from writing by sticking her head between my knees and staring at me.
I named a maid in The Viscount's Vow after her. It's just my way of having this rambunctious little darling live on forever.  By-the-way, my current work in progress has a doxie named Kiki in it.
You can click here to buy Colette's new book on Amazon!
The Viscount's Vow (A Regency Romance)
The Viscount's Vow
by Collette Cameron
Release date September 4, 2013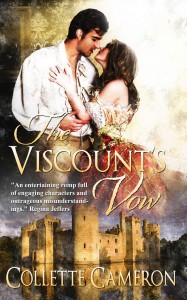 Amidst murder and betrayal, destiny and hearts collide when scandal forces a viscount and a  gypsy noblewoman to marry in this Regency romance, sprinkled with suspense, humor, and inspiration.
Half Romani, half English noblewoman, Evangeline Caruthers is the last woman in England Ian Hamilton, the Viscount Warrick, could ever love—an immoral wanton responsible for his brother's and father's deaths. She thinks he's a foul-tempered blackguard, who after setting out to cause her downfall, finds himself forced to marry her—snared in the trap of his own making.
When Vangie learns the marriage ceremony itself may have been a ruse, she flees to her gypsy relatives, declaring herself divorced from Ian under Romani law. He pursues her to the gypsy encampment, and when the handsome gypsy king offers to take Ian's place in Vangie's bed, jealousy stirs hot and dangerous.
At last, under a balmy starlit sky, Ian and Vangie breech the chasm separating them. Peril lurks though. Ian's the last in his line, and his stepmother intends to dispose of the newlyweds so her daughter can inherit his estate. Only by trusting each other can they overcome scandal and murderous betrayal.
"A brilliant tale combining Regency romance with exotic Romani culture."
Collette would love hearing from you.
http://collettecameron.com
http://blueroseromance.com
 Here's an Amazon link to buy Collette's previous book, HIGHLANDER'S HOPE!
Highlander's Hope