My Best Friend …by author Mary L. Ball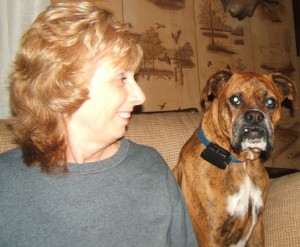 Lou is my best friend, well next to my husband.  I have to admit he sees things and hears conversations my husband doesn't.
Lou is a Seventy-five-pound boxer. I don't need to worry about him finding me at my worst, nor does he care if I walk around the house complaining. He just looks at me with love in his eyes.
Lou's the kind of dog that makes you feel like a queen. His human "mommy" can do no wrong.
He can be scary looking to others. All the elementary kids on the bus call him Vampire Dog, but he's a baby. There's nothing he enjoys better than climbing on your lap for a nap. Yes, all seventy-five pounds of him.
The house is never boring with Lou around and he's too smart for his own good.
One day, he mastered the art of ringing the doorbell. It didn't take Lou long to learn that when the music plays, someone opens the door. At first, I'd go to the front door, and no one was there, except Lou. He'd  look back at me on his way inside as if to say, "thanks Mom."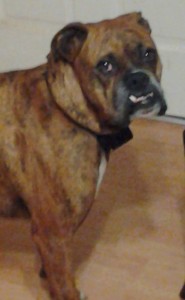 Finally, one day we caught him in the act of standing on his hind legs and pressing the chime. One afternoon Hubby and I came home. We walked into the house to an odd smell. Upon investigating hubby found that the doorbell was stuck. He had to undo the electric wire to the ringer. That day was rainy, so we figured Lou was tired of being outside. His constant pounding of the bell made the button stick, burning the motor out.
Lou is adventurous. He discovered that if he stands (again) on his hind legs, and the wooden door is open. He came hit the handle on the storm door with his paw and open it, and then run outside. If only, I could teach him to grab the handle from the outside and let himself back in! He runs to investigate every sound, and then when he's satisfied the noise isn't threatening he wants back in, usually five minutes later.
When I'm on the couch and Lou is cuddled beside me, I think back to the day we brought him home. Up until Lou, I must admit I didn't know much about dog breeds and the dogs I have had were pocket pouches. Hubby and I were out enjoying a warm February 14. We stopped at a flea market, and there he was; the cutest little brindle colored puppy I have ever seen. I glanced at Hubby with my, Oh it's cute. I've got to have this, expression. Hubby said, "You know this is a boxer." I shook my head. In my mind, a Boxer would grow to be about thirty pounds.  On the way, home my husband explained that my cute little puppy was going to be a seventy-pound dog.
Seventy-five pounds later, I still wouldn't take anything for my Valentine.
Here is a link for Mary's new book!   Stone of Destiny
STONE OF DESTINY

Mary L. Ball
Taylor has given up on everything but her work. After becoming the youngest CEO of Mugful's Beverage Company, she believes life is complete–until her grandmother asks her to oversee the renovations of the family home, in addition to searching for a missing heirloom.
Her first contact with what she believes is an insignificant ring, lost for fifty years, sends her life spinning. Taylor experiences strange. Unexpected feelings surface that she doesn't understand. Thoughts that should remain unspoken are voiced.
Taylor's emotional journey begins, testing a heart as cold as the ring itself and forcing her to question everything she believes. Is this a fairytale, or simply her soul reaching out for a different world–a life she can only find  through faith and a divine trust in God?